Working Lives: Turkey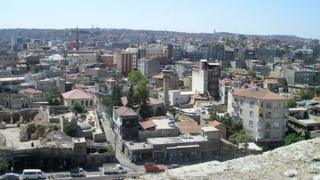 Gaziantep is a city of 1.4 million people in the south of Turkey. Some call it the Anatolian tiger.
Half-an-hour's drive from the the Turkish-Syrian border, it is the fastest-growing economic region in Turkey.
Continuously inhabited for over 4,000 years, Gaziantep is one of the oldest cities on Earth. It must be doing something right. One of its secrets is its location. A fertile spot at the crossing of two major trade routes, it is perfectly positioned to trade in goods and to produce them for export to east and west.
Its people have adapted and survived through the ages, and Working Lives met six people who call the city home in 2012.
Perihan Cocelli is a mother of two and founder and CEO of a textile factory that turns over more than $1m (£620,000) a month. She risked everything to achieve her dream.
Erol Gurban is a blacksmith in the old market, specialising in the skewers used to grill kebabs. Working at the forge since the age of seven, he feels the hammer is the source of his life.
Tamer Abuoglu, the last in a line of butchers stretching back seven generations, has a sensitive side - he's also a published poet with fifteen volumes of verse to his name.
Baklava is the national dessert of Turkey and Gaziantep its spiritual home. Levent Aktas is a master baker of this sweet treat.
Not all of Gaziantep's people were born here. Sultan Ulu came as a refugee with her family after the Russian invasion of Afghanistan. The English teacher was accepted here with open arms and now considers herself 100% Turkish.
Finally, real estate king Dogan Bereketoglu has built an estate agency over 22 years and as someone who realizes the importance of the connection between buildings and people, he has quite a unique office.