Viewpoint: Could Kenya host the Olympics in 2024?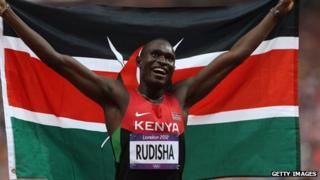 No African nation has yet hosted an Olympic Games, and Kenya wants to be the first. Kenyan Prime Minister Raila Odinga recently vowed the country would bid to host the Games in 2024, but sports writer Chris Tsuma says the attempt is destined to fail.
Kenya, it seems, has dreams of an Olympian nature.
In 2004, Kenya's Sports Minister Ochilo Ayacko made a bold statement: He said the country would bid to host the Olympics.
Mr Ayacko was chief guest at the official opening of the National Olympic Committee of Kenya (Nock) headquarters in Nairobi. He startled those in attendance - which included International Olympic Committee (IOC) president Jacques Rogge - by declaring Kenya would bid for either the 2016 or 2020 Games.
It is eight years on. Rio de Janeiro is preparing to organise the 2016 Games. Next September, in the Argentine capital Buenos Aires, the 125th session of the IOC Congress will vote for 2020's host. There are three cities to choose from: Madrid, Istanbul and Tokyo.
Of course, there was no bid from Kenya. There was never going to be one and no-one listening to Mr Ayacko that day believed the bid would last past the tea and biscuits after the official business was over.
So when Kenya's Prime Minister Raila Odinga, on a visit to Kenya House at London's 2012 Olympics, told the world that Kenya would bid to host the 2024 Games, it's understandable it did not attract much attention.
Rival bids
Firstly, countries do not bid to host the Olympics; cities do. And there will be no bid for the 2024 Summer Games from a Kenyan city.
Nock secretary general FK Paul said the organisation has not been told by the government to start the process of a formal bid.
"It's a joint effort by the city that wants to host, the government and the National Olympic Committee. Ideally, Nairobi or Mombasa or any other city, should have a preliminary bid for the 2024 Olympics ready about now or next year for the first round of voting," says Mr Paul. "However, we have not had any communication about a bid from the government."
Bids for the 2024 Games are also expected from New York and San Francisco in the US, Durban in South Africa and cities in Argentina, Morocco and Egypt. Doha may also bid after failing to win the 2020 Games. The winning city has seven years from the day of confirmation to prepare for the event.
Poor facilities
Mr Odinga may want to host the Games in the belief it would bring a psychological boost as well as "enormous benefits" from investment in infrastructure.
Just like Mr Ayacko's announcements in 2004, the prime minister's words are little more than hot air. It is not surprising, and reflects the casual treatment that sport has got from successive Kenyan governments. The country is about to mark 50 years since independence and Kenya is still trying to craft a national sports policy.
"Hopefully, by December, the Sports Bill should be passed into law and we can have sports policy guidelines," says Kenyan Commissioner for Sports Gordon Oluoch. The process started in 2002.
The country's one and, so far, only major investment in sports infrastructure is the Moi International Sports Centre, an old relic built for the All Africa Games in 1987.
Government neglect left it rotting for years until the Chinese government took mercy and funded a facelift. The 30,000-seater Nyayo Stadium, which was built in the early 1980s, is Kenya's other premier sporting facility, hosting athletics and football matches.
Perhaps Mr Odinga and those who think like him get carried away by the success of Kenyan long and middle-distance runners.
However, there is a glaring deficiency in track and field disciplines, where more investment in facilities and training infrastructure is needed, especially when it comes to sports other than running.
Access to basic sporting and recreational facilities is a distant dream for most Kenyans. In the capital Nairobi especially, every empty space is earmarked for construction. There is nowhere to play and school children out on their PE lessons have to jostle for space on the streets.
The country's latest development master plan, Vision 2030, carries perhaps Kenya's most comprehensive strategy for sports development since its independence.
According to the official website the sports development strategy has three flagship projects: The construction of 30 regional sports stadiums countrywide, the establishment of a sports lottery fund and an international sports academy.
Mr Oluoch has, however, been quick to clarify there will be no wholesale construction of new stadia as stated on the website. "There will be construction of new stadiums only in areas where there is none at all. Most regions in Kenya have some facilities which the government is in the process of upgrading," he says.
He adds that renovation work, which includes laying a running track, is already under way on the Kipchoge Keino Stadium in Eldoret, with the Moi Stadium in Kisumu and the Mombasa Municipal Stadium next in line.
But there is little reason to be optimistic. The cities of Mombasa, Kisumu, and Eldoret are all due sports arenas of international standards. As for the establishment of a sports lottery, it is still in the planning stage after 10 years.
It is not easy to make the jump from this to a scenario where Kenya hosts the Olympic Games. It would be like a double Fifa World Cup and Olympics because, apart from the main venue for the Games, Kenya would have to build at least six world-class stadiums to host the Olympic football matches alone.
The government and bidding cities would have to raise money to fund new urban transport system, airports, housing projects, hotels, and training and competitive facilities.
Unaffordable tickets?
With the government struggling to fund vital sectors such as health care, education, agriculture and security, it is highly unlikely resources can be spent on an Olympic bid.
With the spectre of terrorism surrounding international events, there would be security headaches to endure - and a hefty bill to pay.
Then there is the issue of ticket sales and attendance. Empty seats are major sporting event organisers' worst nightmare. Many Kenyans, who earn an average of $730 (£455) a year, would be unable to afford tickets.
Most of the Olympic sports - fencing, synchronised swimming, gymnastics, water polo - are also unfamiliar to most Kenyans. It would take an effort to have a rocking full house for the dressage final.
So instead of bidding for the Olympics, just give Kenyans a place to run, to kick a ball, shoot hoops, or swim. A place to play. Just that, for a start.
Chris Tsuma is a sports journalist and also teaches journalism and communication at the United States International University, Nairobi.