Working Lives: Thailand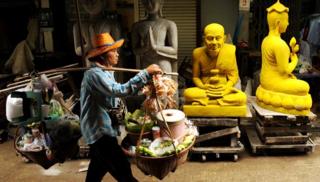 Bangkok is Thailand's sprawling capital. It's a city full of culture and tradition but also a rapidly growing modern Asian metropolis.
Just over two years ago, parts of Bangkok were occupied by anti-government protestors. Last year the capital was battling the worst floods Thailand has seen for half a century. Yet Bangkok has a habit of bouncing back from adversity.
Working Lives travelled to the Thai capital to meet six characters from very different walks of life.
Sukhumbhand Paripatra is the elected governor of Bangkok. He has held his post throughout the years of upheaval and prefers a day spent meeting people rather than stuck in the office.
Chanond Ruangkritya is the president and CEO of a successful property development company.
Thaksaporn Changjareon weaves in and out of Bangkok's notoriously bad traffic working as a motorcycle taxi driver while Sarawut Theerakamchai, or "Woody" to his tourist clients, explores the city's quieter alleys on the back of a pushbike.
Saiyuud Diwong, better known as Poo, has set up a cookery school in a Bangkok slum, and artist Nino Sarabutra has created a ceramics studio in her suburban garden.
What do these different characters tell us about Thailand today?