Will Poland's football team ever be great again?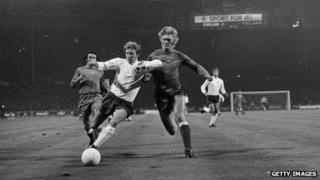 Euro 2012 championship co-host Poland's glory days on the pitch appear to be firmly stuck in the past. Can the tournament revive the fortunes of a once-great footballing nation?
A recent TV commercial for a Polish bank showed three men sat on a couch watching a match in a scene from contemporary Polish life. The game they were watching was from October 1973.
The footage on their flat-screen TV showed Polish striker, Jan Domarski, scoring at Wembley in a match which prevented England from qualifying for the 1974 World Cup.
Poland finished third in those championships, a triumph they repeated in the 1982 World Cup in Spain. After second-round elimination in the 1986 World Cup, Poland did not qualify for a major tournament until 2002. They currently lie 65th in the Fifa world rankings, below the likes of Honduras (61st) and Sierra Leone (63rd).
Abandoned
The game, as elsewhere in Europe, has also been dogged by widespread corruption, which has been tackled since 2003, and hooliganism, which is still a problem, although the government is trying to clamp down on it ahead of the tournament.
When Poland was behind the Iron Curtain football was backed by the communist state. State-owned companies or towns owned clubs, and players and coaches were officially amateurs who earned salaries and social benefits as steelworkers or coalminers. But they didn't actually have to work down the mines; they could concentrate on their football careers.
When the communist system ended in 1989, football was, in many ways, abandoned.
"In the '90s there were huge changes in Poland not only politically, but economically, so everything changed. Unfortunately when you have such strong changes in a country it's very difficult to develop something like sport. Sport is always one of the last things because there are more important things to develop," Jerzy Engel, sports director for the Polish Football Association (PZPN) and former national team coach, tells the BBC.
The clubs lost their state sponsors and they had to start renting the city centre grounds from the local authorities which owned them.
"We lost a lot of stadiums and a lot of coaches because they lost their jobs, there was no money for them so they started to look for new jobs in schools or different sports or they went abroad like I did. We lost a lot of very talented young kids because they didn't have a chance to be trained properly in the clubs and they didn't have places to play football," says Mr Engel, who left Poland to coach in Cyprus in the late 1980s.
Most clubs neglected the development of young players.
"Basically our problem is the lack of a system for training young players. The national team coach has such a small pool to choose from. You can see the difference already at Legia Warsaw. They started an academy 10 years ago and they now have some fruits from this," Piotr Wierzbicki, a journalist for the sports daily, Przeglad Sportowy, says.
But why did much smaller former communist countries such as Croatia, the Czech Republic or Romania enjoy success on the national level in the 1990s while Poland did not?
Mr Engel says it's partly because these countries had better infrastructure and partly because Poland lost a lot of talent as Poles emigrated to western Europe to earn more money and give their boys access to superior training facilities.
He cites the Polish-born German national team players, Lukas Podolski and Miroslav Klose, as prominent examples.
But sports journalist, Pawel Wilkowicz, who writes for the broadsheet, Rzeczpospolita, believes it's a cultural difference.
"The Czech Republic and Croatia are lands of sport and we are not. Poland is not a footballing country. We had a period when our league was only available on TV for satellite subscribers. Between 2000 and 2005 there were no league matches or even highlights shown on terrestrial TV. If that happened in the UK there would be an uprising; here nothing happened," he says.
"Now I think it's changing and a lot of it is down to Euro 2012. Football, and sport in general is fashionable. The change has come as our country has changed, we're getting richer and we have more leisure time," he adds.
Uefa's decision in April 2007 to let Poland and Ukraine co-host Euro 2012 was the catalyst for much of the changes taking place in Polish football, Mr Engel, who led Poland to the World Cup in 2002, says.
"It gave the green light for the local authorities to start to build sports facilities. To be the host country the government has to sign more than 100 different agreements with Uefa. All these things will stay with us forever," he says.
Spur for development
The government is building 2,012 small artificial pitches in communities across the country. Full-size artificial training pitches are being built and more than 60 stadiums have been constructed in the past four years, Mr Engel says.
The PZPN is introducing new rules to train more coaches and encourage clubs to focus on youth development.
Co-hosting the Euro 2012 matches themselves could also help the development of the Polish game, Jacek Bochenek, head of Euro 2012 projects for Deloitte Poland, tells the BBC.
Poland could earn $8.8bn (£5.5bn), adding 2% annual growth to the country's economy up to 2020, according to PL.2012, a company set up by the Ministry of Sport and Tourism to prepare the tournament. Compare that to the $1.57bn (£1bn) the country has spent on the stadia in the four host cities for the championship.
"It can very quickly increase the quality of Polish football. In general a lack of money is a problem. We need a significant amount of money to sign players. The crucial point is how the clubs manage the revenue potentials from the new stadia such as naming rights and match day sales after the tournament," Mr Bochenek says.