Working Lives: Krakow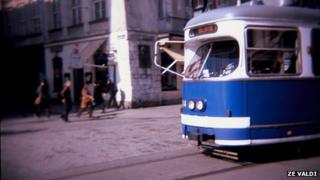 Krakow is Poland's second-largest and one of its oldest cities. It is a popular tourist destination and its historic city centre is listed as a Unesco World Heritage Site.
Working Lives travelled to Krakow to meet six very different people who live and work here.
Ryszard Wilk splits his time between his work as a process engineer at the Tadeusz Sendzimir Steelworks and the rock band in which he plays bass guitar.
Farmer Jadwiga Lopata is passionate about maintaining Poland's agricultural heritage by encouraging other farmers to keep their enterprises within their families.
Graduate Maria Wierzbanowska struggled to find an office job using her degree and instead turned to tram driving, which she loves.
Zbigniew Ojczyk is one of only seven people in the whole world working as a trumpeter at the top of St Mary's Basilica, a big Krakow tourist attraction.
Mikolaj Placek took over his father's plastic window company and, still only in his early 30s, turned it into a successful international business making him a millionaire.
And Karolina Kasza supports herself through her part-time university degree by working as a waitress in one of Krakow's many restaurants.