Working Lives: Toulouse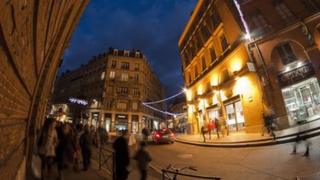 Toulouse is France's fourth-largest city; it is the centre of Europe's space industry, and is also a seat of learning full of medieval buildings.
Companies like airliner-maker Airbus have contributed to a booming economy, with Toulouse's population rising significantly in the past few decades. But it is also a historic, gastronomic city, famous for such French classics as cassoulet and the controversial goose liver dish foie gras.
Working Lives travelled to Toulouse to profile six very different people who call the city home.
Sylvian Godfroyis a lock keeper who works on the city's many canals, whileMarie-Pierre Delaveau-Marotis a test pilot flying new designs for airliner giant Airbus.
Fatima Chejjaroften works seven days a week at one of the city's Moroccan restaurants, while Catholic priestFather John-Christopher Connollypreaches from a makeshift chapel in his home.
FarmerFrancis Maucogrows cereal and prepares the local delicacy foie gras, while 68-year-old architectBernard Voinchethas no plans to retire because he loves his work so much.