India faces people power against nuclear power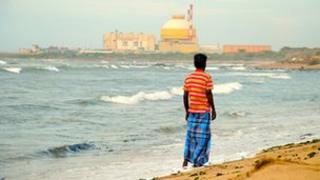 The Indian government wants the country's economic growth to continue, but needs power to fuel it. Coastal areas in states like Tamil Nadu and Maharashtra may be transformed by the building of nuclear plants. But some local people are not happy.
As the sun sets on the southern beaches of Tamil Nadu, Florence Antony stares out beyond the Arabian Sea. A local fisherman, for more than 35 years Mr Antony has made a living fishing these waters.
But he is worried that his livelihood, and way of life, will be destroyed when a nuclear power plant becomes operational in this remote coastal area of Tamil Nadu.
"If this reactor starts, we cannot do our jobs and we will be forced to leave our homes and our land. But we can not do that. We will end up being refugees in another place."
In the 1980s the Indian government signed a $3.5bn agreement with Russia to build a nuclear energy facility in Kudankulam.
For years locals like Mr Antony have been protesting against the nuclear power plant. But now, as it comes closer to operation, they are taking a final stand.
In recent months villagers from communities around Kudankulam have come together to protest against the project, even mounting hunger strikes.
Florence insists that they will not stop fighting until the government puts a permanent end to the project.
People versus power
S P Udayakumar sits under the shade of woven palm fronds outside a local church in Idinthakarai in Tamil Nadu.
The leader of the People's Movement Against Nuclear Energy is urging villagers to gather close to the Kudankulam nuclear power plant site.
As the local fight against the plant has worn on, activists have descended on this rural stretch of India's southern coastline.
Mr Udayakumar, a teacher, lives in a village around 30km (18 miles) from the plant site. When asked how he had come to lead the protests he said someone needed to fight to preserve the largely untouched coastal landscape, as well as educate locals about nuclear power.
He believes nuclear power benefits only "industrial India", and not the common man.
He says the movement has a clear aim. "Our end game is to close down this nuclear power plant. We think that this will have a disastrous impact on our livelihood, on our future generations. Because the Indian government never talks about waste, never talks about decommissioning. It does not tell us the full story."
Light for longer
In recent years Tamil Nadu has undergone rapid industrialisation.
The opportunity to develop, expand, and gain access to one of Asia's fastest-growing markets has lured some of the world's biggest companies - such as Ford Motors - to the state.
However, the growth of big business requires a stable supply of electricity, something the southern state lacks.
While most villagers in and around Kudankulam are fiercely opposed to the production of nuclear energy in the area, local business is welcoming the prospect.
S Nambi Rajan, the director of Janaki Cotton Mills, says that for years regular and prolonged electricity cuts have affected his business.
He says that every day from 6pm to 10pm his cotton production lines grind to a halt as load shedding takes place.
If his factory had a constant supply of electricity, he adds, it could produce 6,000kg of cotton a day, 1,000kg more than it does at the moment.
"If there is more power produced by the nuclear power plant that is a good thing. We can increase our production. All the cotton mills in the state are suffering from power cuts at the moment."
Nuclear future
The nuclear power plant has also been a growing source of tension between state and national authorities.
However Prime Minister Manmohan Singh is standing by the project and his government's wider nuclear power development plans.
There are currently 20 nuclear power plants in operation in India, producing around 5,000 megawatts of electricity.
Seven more reactors are under construction across the country.
They are part of a nationwide drive to guarantee that India can power its own economic growth and support a growing population without relying too heavily on imported supplies.
However, experts say to make nuclear energy more palatable for citizens, particularly in light of the accident in Fukushima in Japan earlier this year, the government will need placate the fears of its people over the safety and security of nuclear facilities.
S S Bajaj, the Chairman of India's Atomic Energy Regulatory Board, says: "We need to exploit all resources of energy. And nuclear is an important component. Of course it has to be very safe. And as a regulator I will emphasise that nuclear energy, to be acceptable, must be safe."
India is growing and it has an insatiable appetite for energy.
But as it moves to find ways of meeting the nation's energy demands, the government faces a delicate challenge: convincing local people, often in remote, undeveloped areas, of the merits and benefits of nuclear power in their backyards.