Indian film's love affair with fantasy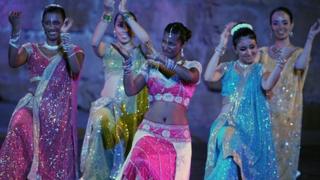 India has witnessed extraordinary growth and the realities of life for many have improved dramatically in recent times, but to the dismay of some of its critics mainstream Bollywood continues to peddle escapist fantasy.
The most popular films in India are so-called masala pictures - diversionary fare delivering a combination of romance, comedy, action, melodrama, song, dance and nearly always an unrealistic happy ending.
Some cultural commentators maintain the country's mainstream film industry produces fantasy because, despite improvements, many Indians still live under conditions of extreme poverty.
Top Bollywood actress Kareena Kapoor says: "We believe in escapist cinema. We like to get away from the harsh reality of things. We are constantly escaping the truth and looking for entertainment."
Bollywood films are very often seen as reinforcing and reflecting the values of a patriarchal culture with women portrayed in stereotypical roles.
Top Indian director Shekhar Kapur agrees. "We hang on to this idea of the Suffering Woman that in her suffering that she would be the Great Woman."
But one of Bollywood's biggest female stars, Priyanka Chopra, sees it rather differently. She believes there has been some progress.
"One of my most critically and commercially acclaimed films was a film Fashion that was entirely on my shoulder(s). It was a girl's journey in the fashion industry and her ups and downs, so yes, I do think that Hindi films have evolved in terms of female parts."
Although Bollywood films are evolving some areas are still taboo. Portraying certain kinds of sex can be fraught with difficulty, top independent filmmaker Anurag Kashyap has discovered.
His 2010 film - That Girl in Yellow Boots - showed massage parlours selling sex in the sleazy underbelly of Mumbai. It provoked a backlash.
"The moment you deal with sex, for a lot of people, it becomes morally upsetting, and because you're dealing with it in a very real way. If you do it in a very suggestive way or a dramatic way, it's fine.
"A lot of people involved with the film were embarrassed about the film. A lot of people we thanked in the film who actually lent us money, they said, 'Please take our names from the film,' because they don't want somebody to see and say 'You gave the money to make this film!'"
Middle-class revolution
India's large young population is stirred by the same issues and topical debates found in the West.
While Hollywood may still be reluctant to address certain hot button subjects such as abortion and gay rights there's much more opposition in India.
Bollywood actor - and heartthrob - Ranbir Kapoor, 29, says: "It's still a little taboo for a mainstream actor to do a gay role, but we are hopeful. We're not pushing the boundaries that much to actually make a film on abortion or just gay rights.
"I think someday we'll get there. Someday we'll have total freedom of making anything and everything we want."
The biggest move towards more realistic cinema comes from India's burgeoning new wave of filmmaking fuelled by the country's young middle class. While the vast majority of Indians go to single-screen cinemas, the urban generation with money to spend flock to newer multiplex cinemas seeking films that are a little more daring and challenging than Bollywood crowdpleasers.
One of the directors catering to the needs of this growing audience is Dibakar Banerjee, who sees his most recent film, Love, Sex aur Dhokha, as a reaction against Bollywood.
He thinks his picture portrays a realistic view of love and the impact it can have in the lives of ordinary Indians - a portrayal that he argues stands in contrast to Bollywood love stories.
Bollywood, he says, might preach love conquers all but his film presents a very different picture.
"What happens in real life is that when a person from one caste marries or falls in love with a person from another caste, they might be killed for that in some places in India," he says.
Replacing fantasy with reality can bring big rupees to the box office as the makers of Delhi Belly discovered. Their film was one of the biggest successes this year in India's multiplex cinemas.
The picture is an irreverent crime caper replete with lavatory humour. It's seen as India's first mainstream move into "gross-out" adult comedy.
The screenplay comes from writer Akshat Verma - a man on a mission to inject more lifelike and relatable portrayals into Indian films.
"My biggest problem growing up, watching a lot of Indian films, was characters in situations I did not relate to," he says. "So my desire was to try and write characters which were some of the people I'd known, friends who had a rudeness or irreverence to the way they approached the world, with a certain dark humour."
Although there are divisions within the Indian film industry over storytelling and content a workable equilibrium appears to have been established.
Bollywood has a well-established star-system that continues to bring escapist fantasy to the masses. While the country's growing independent film movement strives to bring Indians more gritty and realistic movies.
But both these sectors happily co-exist - and both are flourishing.