Working Lives India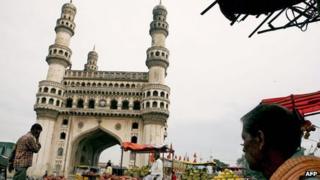 Hyderabad, in southern India, is the capital of Andhra Pradesh.
Now one of the most vibrant and rapidly developing cities, Hyderabad was until the early 1990s a sleepy little town. In the mid-90s, a former chief minister decided to shake up the state and join the IT boom revolutionising other parts of India.
It is also culturally mixed. Even today, the city is just over half Hindu, and 40% Muslim. It includes glittering hi-tech areas and the 400-year-old historic Charminar district set up by the city's former rulers, the Nizam.
Working Lives met up with six very different residents of this powerhouse Indian city. Sanjay Reddy is the head of a business conglomerate making deals all over the world, while Jhinuk Saha is one of the thousands of workers in the city's booming IT sector.
Dr Daggubati Purandeswari is a politician trying to help bring the benefits of education to everyone, while student Challa Ramesh Reddy is hoping his studies will help him break out of poverty.
Actor Ram Charan Tej represents the glitz and glamour of Hyderabad's Tollywood film industry, while bangle-maker Sultana Unnisa reflects the experience of the majority of the city's inhabitants, struggling to live day by day.