Taiwan offers Chinese students a cautious welcome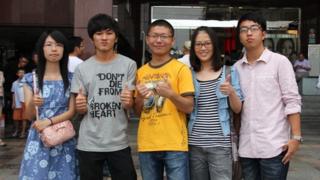 Students from mainland China are a common sight at schools and universities around the world.
But, because of past political tensions between China and Taiwan, 2011 is the first year they have been allowed to study for a degree on the island.
The ruling party, the Nationalists, wants to welcome Chinese students with open arms.
The opposition, led by the Democratic Progressive Party (DPP), wants to restrict their numbers.
Positive impressions
The ongoing controversy over their presence is yet another reminder that, even with cross-straits relations at their best in 60 years, the mutual suspicion after decades of mistrust is difficult to overcome.
Hungkuang University in the central Taiwan city of Taichung is hosting five students from eastern China, in their first year.
Living far from home, the five have formed a close-knit group.
Their impressions of Taiwan, and the laid-back city of Taichung, are unanimously positive.
"The people here are so polite," says Jiang Yubo, a slim, bespectacled young man who is studying environmental engineering.
"They are always saying thank you. It feels like it's very easy to fit into this society."
His friend Xu Jiajie, who is studying nursing, is surprised at the Socratic style of instruction.
"The teachers here value my opinion a lot more. They're always asking for my opinion. At home, they're not so interested in what I think," she says.
But the students say it is unfair they are barred from receiving certain scholarships and financial help offered to other foreign students.
They are also not allowed to stay on to work in Taiwan after graduation, for fear they will compete with local residents for jobs.
Allowing Chinese students to study in Taiwan is just one of a number of proposals championed by the Nationalist Party, also known as the Kuomingtang (KMT).
Relations with giant neighbour China have warmed considerably under President Ma Ying-jeou, who is seeking re-election in January.
Mr Ma favours closer relations with China, whose Communist leadership defeated the Nationalists to win a bloody civil war in 1949. The Nationalists then escaped to Taiwan.
The party, which dominated political life on the island for decades, favours eventual reunification with the mainland.
"China is a very important player in this region, in the world," says Johnny Chiang, a KMT candidate in legislative elections, also being held in January.
"How does Taiwan play with mainland China in a win-win situation? That is what we are looking for."
His pro-China stance is opposed by the DPP, which promotes a distinctly Taiwanese identity.
The DPP has been known to take a confrontational stance against the mainland.
It was this party that pushed for, and won, restrictions on Chinese students in Taiwan.
'Moving too fast'
The DPP's presidential candidate is Tsai Ing-wen, a quiet, thoughtful academic who is also the first woman in Taiwan to run for the top job.
In September, she led a crowd of 10,000 supporters in Taichung in celebrating the 25th anniversary of her party's founding.
"Well, we feel that the KMT party has been moving too fast and too close to China," says DPP spokeswoman Hsiao Bi-khim.
"They have reached political preconditions and agreements with the Chinese without going through a democratic process within Taiwan. We feel that, ultimately, the difference between the DPP and KMT is that we feel any future political arrangement, if there is any change to the status quo, must be agreed by the people of Taiwan," she added.
Both parties feel the independent swing voters of central Taiwan hold the key to Taiwan's future.
They will decide the outcome of the presidential race, which is extremely close.
The votes cast in Taichung will decide if ties with China remain cordial under the KMT, or chill if the DPP takes power.
Business optimism
King Liu, one of the city's best-known businessmen, declines to take sides publicly.
Mr Liu is the 77-year-old found of Giant Global Group, the biggest bicycle seller in the world.
But he clearly prefers to maintain friendly relations with China.
"From my point of view, I welcome peaceful relations with China. Otherwise, how can I get anything done? If the two sides are at odds, then it's very damaging for businesses like mine," he says.
He adds: "Taiwan is a free country. People have different views and different opinions. We should respect that. But is there any reason to stir up tension with your neighbours or your friends?"
This is a commonly heard refrain, especially among the business elite.
And it seems even the DPP is taking note.
In a recent trip to Washington, Ms Tsai, the presidential candidate, told her American hosts that she would not antagonise China if she wins.
As for the Chinese students at Hungkuang University, they are enjoying a chance to immerse themselves in a completely different society - with its free press, clean streets and genuine debate over Taiwan's future.