Chinese tourists go it alone in Taiwan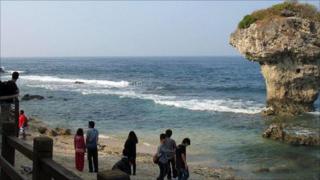 As usual, there's a queue to see the famous Jade Cabbage at the National Palace Museum in Taiwan's capital, Taipei.
The line snakes out of the room where visitors crowd around the intricately carved vegetable in its glass display case, far into the corridor.
Downstairs, the entrance foyer is heaving with people. Tour guides, holding flags, soft toys tied to sticks and rolled up umbrellas above their heads are trying to shepherd their flocks. Museum workers in uniform, brandishing signs requesting visitors to speak quietly, wander through the crowds.
Most of the tourists here are from mainland China, visiting Taiwan as part of group excursions. They are bussed from one attraction to the next, following packed itineraries, unable to explore outside the confines of their group or to go at their own pace.
For the past three years this has been the only way for tourists from China to come to Taiwan, which has been divided from the mainland since Nationalist forces, fleeing China's civil war, took over the island in 1949.
China has claimed sovereignty over Taiwan ever since, creating a constant source of tension and mistrust.
That's why it took until 2008 for the two sides to agree to allow these tightly controlled tour groups to visit Taiwan. It's a decision which has already transformed the island's tourist industry, providing a welcome boost to the economy. Last year 1.6 million mainland Chinese made the trip, overtaking the Japanese as the biggest tourist group in Taiwan.
Roger Lo of travel company, Holiday Travel Service says their impact has been huge.
"It's the most significant change in the travel industry in Taiwan in the past 30 years. It's changed the travel industry completely."
For the Chinese, their highly charged history and shared language make Taiwan, it seems, an appealing holiday destination.
Journalist Mabel Huang says it's particularly interesting for mainlanders.
"Because we have half a century of separation people have a lot of curiosity about Taiwan because we are from the same culture, the same people."
But while the financial benefits of this thaw in relations may be considerable - the government estimates mainland visitors will be bringing in some $330m (£214.4m) a year by 2013 - the sheer number of Chinese tourists is worrying some Taiwanese.
Cultural clashes
Joseph Wu, a former Taiwan representative to the US, fears the island's attractions won't be able to cope with the influx.
"The National Palace Museum is one of the biggest attractions of Taiwan. International tourists coming over to Taiwan would like to visit the museum but the museum is crowded with Chinese tourists - now it is so noisy and crowded over there, for other people to go and enjoy the treasures is virtually impossible and that has downgraded the standard of the management of the international museum and we don't like it."
Cultural differences too, between the Taiwanese and some of their more boisterous visitors, have also raised a few eyebrows.
"You know the Chinese, they always break into queues but here in Taiwan people stay in the queue and they are quiet," says Mabel Huang. "This really surprises the Chinese people because in China it's a different story."
At the Gala Hotel in Taipei's city centre, manager Elvin Su says they're having to adapt to keep everyone satisfied.
"We cannot ignore the Japanese nor the Chinese. When they come to the hotel together we want them to be happy so we have different places for them - because some Chinese will speak very loudly when they're dining but the Japanese do not. We want them to be satisfied with the hotel service so we always separate the dining room for them.
But if Taiwanese tourism has been drastically changed by Chinese tour groups, it's now set to alter again, following the recent decision to allow individual travellers from the mainland to go it alone around Taiwan.
Yen-Yen Zheng is taking a private tour of the treasures of the National Palace Museum with her mother and five-year-old daughter. They're travelled from Beijing under the new policy and she's pleased with her decision to cut out the coach trip and set her own timetable.
"My mum has problems with her knee so she can't follow the others in a group so we like having a more flexible schedule. It's quite easy for people from the China mainland to just go around by themselves. There are no barriers like the language or culture - it's very convenient."
But the scheme has got off to a slow start, with an average of just 200 solo tourists a day entering Taiwan since it began on 28 June.
With generations of mistrust to overcome, both China and Taiwan are being cautious about relaxing the rules so the process is not exactly straightforward.
Security risk?
At the moment there is an entry limit of 500 individual tourists a day from just three cities in China: Beijing, Shanghai and Xiamen. Prospective visitors have to prove they earn the equivalent of $17,000 (£11,000) a year or have $6,600 (£4,285) in savings to reduce the chances of them overstaying their visa.
But no matter how small the number of solo tourists at present, allowing Chinese mainlanders into Taiwan to go where they like without being monitored is a decision some, like Mr Wu, fiercely object to.
"There might be Chinese tourists coming here disguised as tourists but actually they're coming here to try to find out our military secrets, to spy on our military installations or carry out other missions to infiltrate our society.
"We have to be very careful in handling the exchanges between the two sides to make sure that Taiwan's national security is not endangered."