Shireen Abu Aqla: US releases result of test on bullet that killed reporter
By Raffi Berg
BBC News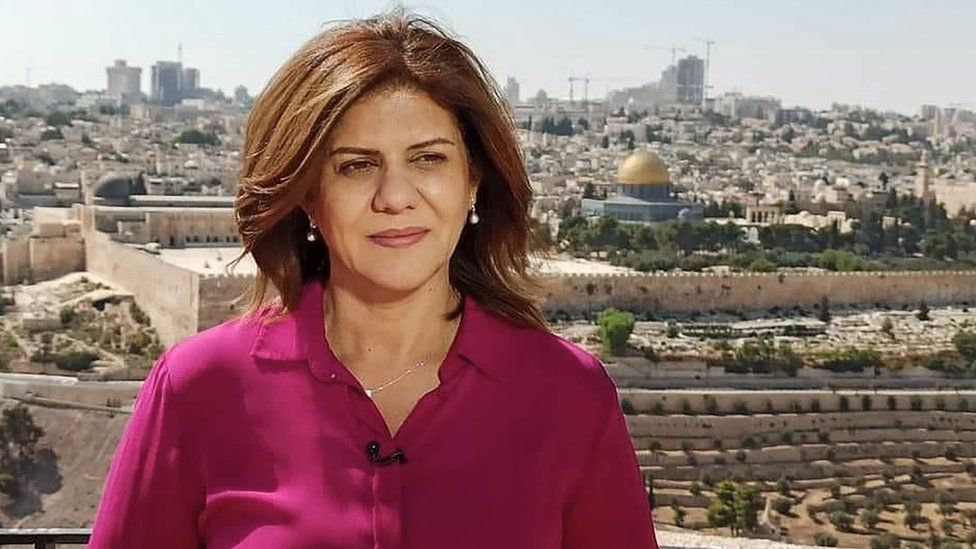 The US says the bullet that killed a Palestinian-American journalist was too badly damaged to reach a definitive conclusion about whether the origin was Israeli or Palestinian gunfire.
However, findings from both sides led the US to conclude that Israeli forces had likely but unintentionally fired the shot that hit Shireen Abu Aqla.
The veteran Al Jazeera reporter's death caused widespread shock and anger.
Palestinians blame Israel, but Israel says blame cannot yet be determined.
The bullet was handed over on Saturday by the Palestinians to the US embassy in Jerusalem for examination after they previously insisted on Israel's exclusion.
The Palestinians had until then refused to release the bullet which killed Abu Aqla as she was covering an Israeli operation in Jenin, in the occupied West Bank, on 11 May, during which Israeli forces clashed with Palestinian gunmen.
Israel had previously said it had identified a soldier's weapon which might have fired the fatal shot. However, the military said on Monday that the condition of the bullet made it impossible to tell.
Israel has also said it cannot be ruled out that Palestinian militants might have shot Abu Aqla, although the UN's human rights office, as well as eyewitnesses and journalistic investigations, have concluded that Israeli soldiers were responsible.
The Israel Defense Forces (IDF) said the analysis of the bullet was carried out in Israel in the presence of the United States Security Co-ordinator for Israel and the Palestinian Authority (USSC).
In a statement, the US state department said that after "extremely detailed forensic analysis [of the bullet], independent, third-party examiners... could not reach a definitive conclusion" as to which side fired the fatal shot.
While "gunfire from IDF positions was likely responsible" for Abu Aqla's death, it said, "the USSC found no reason to believe that this was intentional but rather the result of tragic circumstances".
Senior Palestinian official Hussein al-Sheikh reacted angrily to the statement, accusing the US of avoiding holding Israel responsible.
"We will not allow attempts to conceal the truth or to have shy references in pointing the finger of accusation to Israel," he tweeted.
The IDF said that its own investigation into the "tragic incident... conclusively determined that no IDF soldier deliberately fired at Ms Abu Aqla". It added that any decision as to whether to open a criminal investigation would be made following the conclusion of what it called an operational examination.
Shireen Abu Aqla, who was 51, was one of the region's most experienced and admired correspondents.
She was wearing a protective vest with the word "Press" on it as well as a helmet when she was shot in a road near where a gun-battle had taken place between Israeli forces and Palestinian militants.
The IDF said its troops had gone into Jenin to apprehend "terrorist suspects" following a wave of deadly attacks against Israelis by Palestinians, two of whom came from the Jenin district.