Kidnap alert heightens Iran-Israel shadow war fears
By Suzanne Kianpour
BBC News, Dubai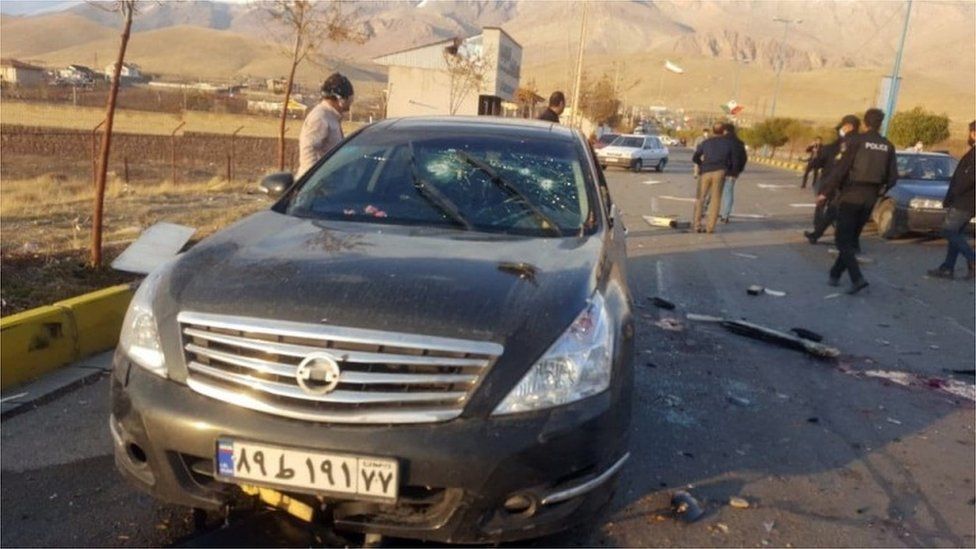 For years, both sides have been engaged in clandestine actions against each other. Israel sees Iran, which calls for its elimination, as its biggest threat; Iran sees Israel as an enemy siding with the United States and a bulwark against its growth as a regional power.
Events took a particularly dramatic turn in 2020, when Iran's leaders blamed Israel for the killing of its top nuclear scientist, Mohsen Fakhrizadeh, who was shot dead while driving a car on a road outside Tehran, allegedly with a remote-controlled machine gun.
Israel neither confirmed nor denied involvement in the death of Fakhrizadeh, who was the fifth Iranian nuclear scientist to have been assassinated since 2007. The New York Times however ran a detailed report describing how Israel carried it out.
Over the next months, as Joe Biden became US president and attempted to revive the nuclear deal with Iran that was abandoned by his predecessor Donald Trump, Iran and Israel apparently continued covert operations against each other.
Israel announced that it had foiled an alleged Iranian assassination plot; Iran boasted of a drone operation inside Israel; both countries allegedly attacked each other's cargo ships; and Iran last week said Israel was behind a sabotage attack on an underground nuclear site. Just days ago, Iran said it is to put on trial three people with alleged links to Mossad, whom it has charged with planning to assassinate Iranian nuclear scientists.
Iran also reported a series of mysterious deaths inside the country, including those of two aerospace officials who were "martyred while on mission" as well as a defence ministry engineer who was "martyred by industrial sabotage". However, it did not got as far as blaming Israel for the deaths.
The shadow war between Israel and Iran now seems to be coming out of the shadows - even getting the Hollywood treatment in Apple TV show Tehran, in which a Mossad agent infiltrates the highest echelons of the Iranian Revolutionary Guards security apparatus.
In real life, Richard Goldberg, who served as the White House National Security Council's director for countering Iranian weapons of mass destruction under Donald Trump, said Mohsen Fakhrizadeh could not have been killed without a massive security breach inside Iran.
"One would assume that in order to be able to get inside a very highly guarded nuclear facility or to get access to key personnel, you would have to get complicity inside the regime."
Iran continues to insist that its nuclear programme is solely for peaceful purposes. But since Mr Trump walked away from the nuclear deal in 2018 and reinstated US sanctions, Iran has responded by enriching uranium to ever higher levels of purity and is now close to have enough for a nuclear weapon. Its talks with world powers in Vienna about reviving the nuclear deal have also stalled.
Iran is also suspected of having targeted US and Israeli interests in the region in retaliation for the attacks on its territory.
It fired ballistic missiles at what it alleged was an Israeli "strategic centre" in Iraq's Kurdistan Region in March. Iran-backed militias have also been accused of launching rockets and drones at Iraqi bases housing US troops, as well as carrying out bomb attacks on supply convoys.
In an unprecedented move, Israel recently warned its citizens in Istanbul to leave the city and others not to travel to Turkey, saying they faced a "real and immediate danger" from Iranian agents looking to harm Israelis.
Outgoing Prime Minister Naftali Bennett has meanwhile said Israel is implementing what he called "the Octopus Doctrine", which involves stepping up covert operations on Iran's nuclear, missile and drone programmes on Iranian territory, rather than targeting regional proxies in third countries.
Mohammad Marandi, a professor at the University of Tehran and media adviser to Iran's nuclear negotiation team at the Vienna talks, said: "Murdering innocent civilians under Western political protection is nothing new for the Israeli regime, but the Israelis exaggerate their capabilities for political purposes by pretending that accidents and ordinary deaths are also their doing."
"Iran will definitely hit back, but Iran is patient."
The head of Iran's elite Quds Force - the Revolutionary Guards' overseas operations arm - Gen Esmail Qaani, declared that Iran will continue to back any anti-US or anti-Israel movement anywhere after the US, to the shock of much of the world, killed his predecessor Qasem Soleimani in a drone strike in the Iraqi capital, Baghdad, in January 2020.
The Trump administration also sought to shift the power balance in the Middle East and further isolate Iran by negotiating the Abraham Accords, which saw the United Arab Emirates and Bahrain agree to normalise relations with Israel.
"Iran hates the Abraham Accords," a senior Arab diplomat, who did not wish to be identified, said.
However, a former Iranian official said they did not see the accords as long lasting, describing them as more of a "temporary love affair".
"It's been a long time coming, a slow roll, no surprising move on either side. It's what we've been seeing for a long time, just out in the open now."
Rich Goldberg, now a senior adviser at the Washington-based Foundation for Defense of Democracies think tank, said Israel's clandestine campaign might have its limits.
"The world expects one big moment, where we wake up and hear about Israeli air strikes."
"But the Israelis seem to be quietly normalising the shadow war, which could easily escalate to direct attack on nuclear facilities, without the world saying: 'There's a military strike, we have to stop it.'"