Israel Palestinians: Court finds Gaza aid worker guilty of diverting funds to Hamas
By Yolande Knell
BBC News, Beersheba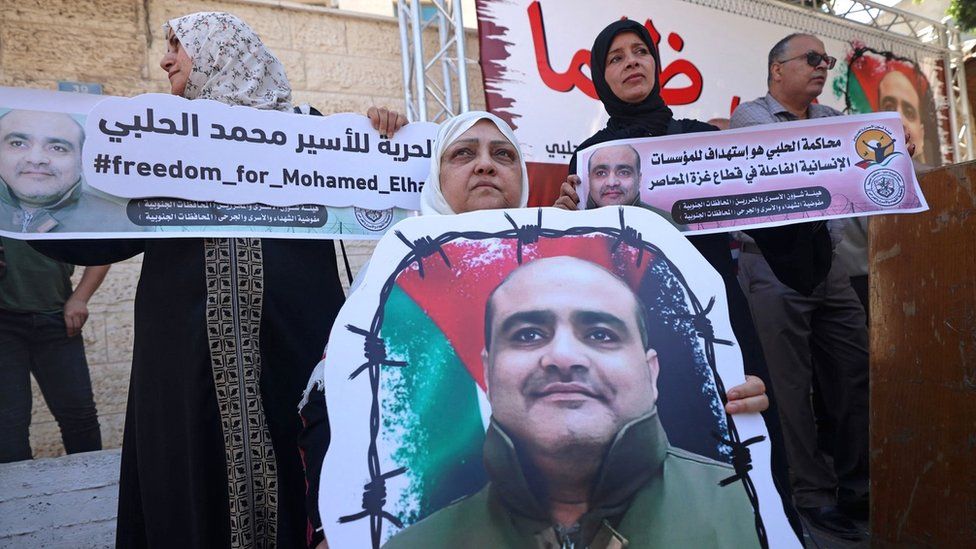 The original claims were jaw-dropping: Israeli security officials accused a Gaza aid worker of diverting up to $50m (£41.5m) of donations to the Islamist militant group Hamas.
It was alleged the money - which would have amounted to one of the biggest thefts of humanitarian funds in history - paid for rockets and tunnels used to attack Israel.
After exactly six years in detention, Mohammed Halabi sat solemnly in the dock at Beersheba District Court in southern Israel as he was found guilty of 13 charges, including belonging to a terrorist organisation and transferring "considerable sums" to Hamas.
International human rights groups described the verdict as "a miscarriage of justice", saying it was not supported by independent audits, with key evidence kept secret.
The head of the UN human rights office in the Palestinian territories said there had been "enormous pressure on Mr Halabi to confess in the absence of evidence".
However, judges said they relied on what they described as a "credible and corroborated" confession given to Israel's Shin Bet intelligence service.
'Sophisticated apparatus'
After Mohammed Halabi, the head of World Vision's Gaza office, was arrested by Israeli security forces at the Erez crossing, nothing was immediately heard of him and he had no access to a lawyer.
A month later, the local headquarters of the charity in Jerusalem was raided by dozens of Shin Bet officers, without his name being mentioned.
Then in August, Shin Bet provided journalists with an information sheet alleging that Mohammed Halabi was "actually a major figure in the terrorist/military arm of Hamas".
It detailed how, it said, he had used "a sophisticated and systematic apparatus" to transfer 60% of the charity's annual budget for Gaza to the militant group.
He was alleged to have set up projects ostensibly for farmers, fishermen, the sick and people with disabilities as a cover to siphon off funds for Hamas.
In addition, he was said to have imported materials, including thousands of tonnes of iron ore, under the guise of aid work - which were then passed to Hamas to build tunnels.
This was presented as clear evidence that Hamas, which governs Gaza and is designated as a terrorist group by Israel, the US, EU and other powers, stole donations intended for desperate residents and did not respect the neutrality of aid workers.
World Vision, a large Christian charity with an annual budget of more than $3bn (£2.5bn), operates in 100 countries and employs tens of thousands of people.
The allegations against one of its high-ranking staff threatened its reputation. Major donors, including the Australian and German governments, froze all funding to its Gaza projects. Soon the local office, employing 120 staff, was closed.
However, from the outset World Vision found serious holes in the Israeli case. Its entire Gaza budget over the previous decade had been $22.5m - which it said made the original allegation of the diversion of over twice that amount "hard to reconcile".
Large tenders for Gaza contracts were also handled by the Jerusalem office and it did not import iron ore into the territory.
Furthermore, experienced colleagues rejected outright the portrait painted of Mohammed Halabi.
"He was such a good man doing incredibly skilful work that made a real difference," Conny Lenneburg, the former head of World Vision's Middle East operations, told me.
He worked on small-scale agricultural projects, creating businesses for vulnerable women and providing psycho-social support for children traumatised by war.
Ms Lenneburg remembered details such as his insistence that farmers who were helped to grow tasty strawberries for profitable export to Europe had to sell a quarter of their crop to Gaza locals. "A militant doesn't have these kinds of ideas. It's a person who really cares about community," she said.
World Vision asked one of the largest international accountancy firms, Deloitte, and global lawyers DLA Piper to carry out an independent forensic audit of its Gaza operations.
Scrutiny of payments and 280,000 emails, as well as dozens of interviews, found no evidence of missing funds or criminal behaviour.
Neither did an Australian government review of funding for World Vision.
In what it says is the absence of evidence of Mohammed Halabi's guilt, World Vision has continued to pay his legal fees.
Speaking outside the Beersheba courtroom after the guilty verdict, defence lawyer Maher Hanna said: "The summary we heard, I can assure you as someone who's followed this case for six years, has nothing to do with the evidence. It's really shocking."
"All the judge said was that the security forces cannot be wrong. That's why he was convicted."
In his summary, Judge Natan Zlotchover described the defendant as "an educated, sophisticated, calculated person" who he said had been recruited by Hamas to infiltrate World Vision and had continued to meet members of its armed wing to discuss their needs.
He had given "a confession that presents a coherent story, which is interwoven with many details" and which was "unlikely" to have been fabricated by him at the time of confession, the judge added.
It is understood that key to the prosecution case was a confession that Mohammed Halabi made to a fellow detainee acting as an undercover informant which, he has maintained, was coerced under threat of physical violence.
Mr Hanna told me that classified documents had been lost and that there had been "unprecedented" constraints on his work, such as having to use a Shin Bet computer under guard to write his court submissions and having notes he took in closed hearings destroyed.
He said that over the years his client had consistently refused Israeli offers of a plea bargain, which could have seen him released, because he would not admit any wrongdoing.
Mohammed Halabi's imprisonment has taken a heavy toll on his family. The youngest of his five children, Fares, was a baby when he was jailed and has no memory of him.
However, his father Khalil - himself a long-time UN employee - supports what he sees as his son's moral position, believing the charges against him were made to delegitimise Palestinian civil society.
He insisted that the family had no links to Hamas.
"Everybody knows my ideology and Mohammed's ideology is different," he said. "[We] support just the peaceful projects, not related to Hamas."
Hamas militants have fought four major conflicts with Israel, which imposes tight border restrictions on Gaza along with Egypt, citing security reasons.
At the same time, the dire economic and humanitarian situation in Gaza means that, according to the UN, more than two thirds of the 2 million population rely on some form of aid.
While no case has been so dramatic as that of Mohammed Halabi, Palestinian aid workers have previously been convicted on terrorism-related charges in Israel.
Following Wednesday's verdict, the Israeli foreign ministry said: "Israel acknowledges the importance of humanitarian work in Gaza and continues to support international efforts to provide assistance to the Gazan population."