Israel says Hamas plot to kill prominent politician in Jerusalem thwarted
By Raffi Berg
BBC News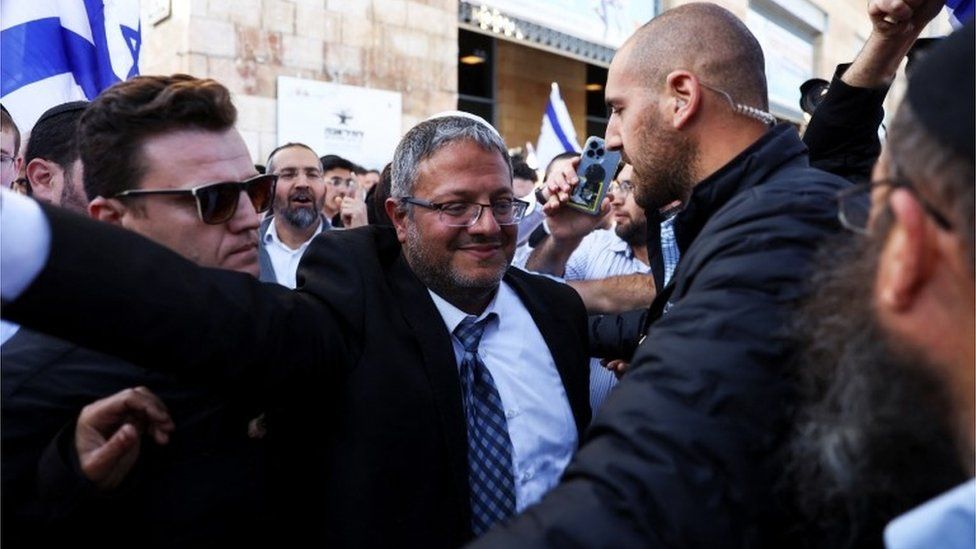 A court in Israel has charged three Palestinians with planning to kill an Israeli politician, kidnap soldiers and bomb Jerusalem's light railway.
The men belong to the militant group Hamas, which governs the Gaza Strip.
Israel's internal security agency, which arrested the men, also found an explosive drone which they allegedly planned to use to attack the railway.
Israeli leaders have repeatedly accused Hamas of fomenting violence in Jerusalem.
The three Palestinians belonged to a five-man cell, all of whom come from occupied East Jerusalem and were arrested in April.
Those charged are accused of planning to assassinate the far-right Israeli politician Itamar Ben Gvir and to attack other Israeli targets.
They are also accused of planning to kidnap Israeli soldiers to use as bargaining chips for the release of Palestinian prisoners held by Israel. The Shin Bet internal security agency found a camera which it says was intended to be used to film hostages.
Shin Bet says the cell was led by a prominent Hamas operative who is alleged to have set up a network of supporters to stir up recent unrest in the Old City. Hamas flags were waved in the compound of a holy site revered by Jews and Muslims, which was the scene of repeated clashes between Palestinians and Israeli police over the past two months.
The five men were involved in rioting in East Jerusalem and in the compound, Shin Bet says.
The site, known to Muslims as Haram al-Sharif (Noble Sanctuary), contains the Al-Aqsa Mosque, which is the third holiest place in Islam. It is also known to Jews as the Temple Mount and is the holiest site in Judaism.
Hamas does not recognise Israel's right to exist and has carried out thousands of attacks against Israeli civilians and soldiers in recent years. Israel regards it as a terrorist group and, along with Egypt, has blockaded Gaza since 2007 as a security measure. Militants in Gaza have also fought four major conflicts with Israel since then.
Mr Ben Gvir thanked the security services for arresting the "squad of terrorists", but he also blamed "the incitement of the leftists against me" for helping make him a target.