Israeli Arab MP Zoabi returns to coalition after crisis
By Raffi Berg
BBC News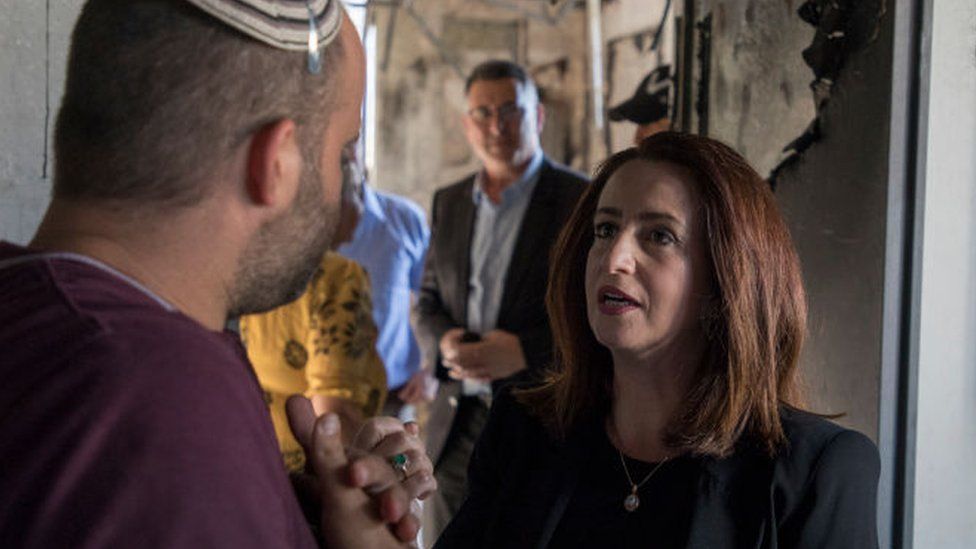 An Israeli Arab MP who quit its ruling coalition, plunging the government into a political crisis, has reversed her decision and rejoined.
Ghaida Rinawie Zoabi resigned on Thursday, leaving the government as a minority for the first time.
However she reversed course on Sunday, in a move which restores the government to a knife-edge number of seats.
It was the most serious crisis to rock the coalition, which has been in power for just under a year.
Led by nationalist Prime Minister Naftali Bennett, the coalition - the most diverse in the country's history - brought together eight parties from across the political spectrum, some with major ideological differences.
Significantly, the government includes an independent Arab party for the first time since the state was founded in 1948.
Israel's Arab minority comprises about 20% of the population and although they have equal rights under the law, they often complain of discrimination.
Ms Zoabi, of the left-wing Meretz party, had resigned, accusing the heads of the coalition of "hawkish, rigid and right-wing stances regarding basic issues of utmost importance for Arab society".
At Abu Aqla's funeral, Israeli police beat and kicked mourners carrying her coffin aloft, causing it to almost fall to the ground. Police said they had acted after being "exposed to violence by rioters". The scenes, carried live on Al Jazeera, caused widespread outrage and scathing criticism of the police's actions.
However, following a meeting with Israel's alternate prime minister Yair Lapid and eight Arab mayors on Sunday, the MP announced she was returning to the government.
Ms Zoabia said doing so would help improve the needs of Israel's Arab community, and that local leaders had placed her "under immense pressure" to rejoin. Her return restores the government to 60 seats in the 120-seat parliament.
Ms Zoabi was the second member to resign within weeks, after a member of the prime minister's own right-wing Yamina party quit, saying the coalition was "harming... the Jewish identity" of the state.
The coalition was formed in order to bring together enough parties to oust long-term Israeli Prime Minister Benjamin Netanyahu following a series on inconclusive elections. Mr Netanyahu has been leader of the opposition since then and has vowed to return to office.
You may also be interested in: