Instagram moderators say Iran offered them bribes to remove accounts
By Parham Ghobadi
BBC Persian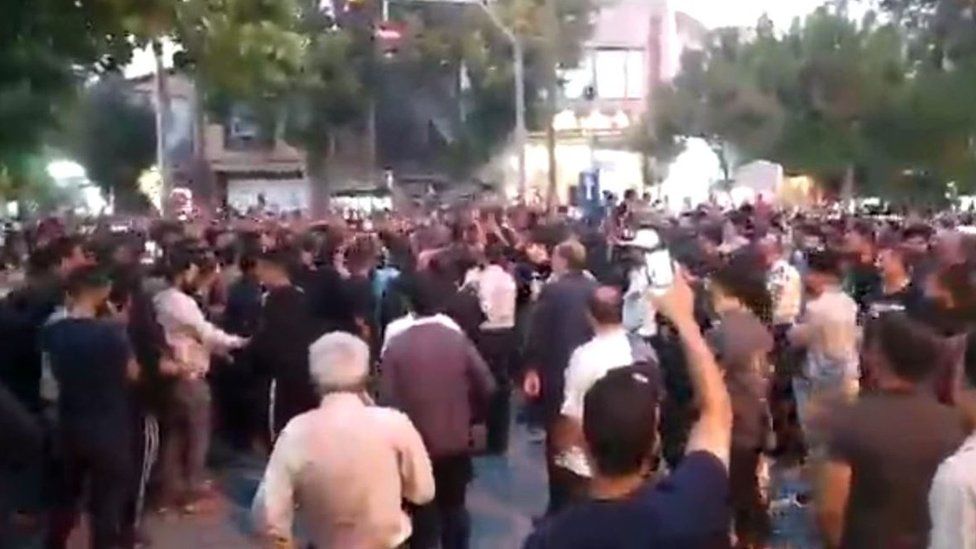 A Persian-language content moderator for Instagram and a former content moderator have said Iranian intelligence officials offered them money to remove Instagram accounts of journalists and activists.
"I was offered 5,000 to 10,000 euros [$5,350-$10,700; £4,250-£9,000] to delete an account. They were especially after removing Masih Alinejad," the former reviewer told BBC Persian.
Both content moderators also accused some Iranian colleagues of exhibiting "pro-regime bias" when reviewing posts on the photo-sharing service.
They spoke to the BBC after many Iranian Instagram users complained that posts about recent anti-government protests in their country had been deleted. Instagram's owner, Meta Platforms, and the third-party company it uses to moderate content said there was no validity to the claims.
The protests erupted in several provinces earlier this month after the Iranian government cut subsidies for basic food items, causing prices to soar.
The unrest quickly turned political, with demonstrators chanting slogans against Supreme Leader Ayatollah Ali Khamenei and President Ebrahim Raisi.
Security forces cracked down violently on the protests. Unconfirmed reports said at least five people were killed.
The protests received very little coverage on Iranian state media, meaning that Iranians had to rely on Instagram and other social media sites to learn what was happening on the ground. As the unrest continued, users noticed that some videos posted on Instagram were being removed.
One of those to complain was 1500tasvir ("1500images"), a popular account run by opposition activists, which on Thursday tweeted that it had been informed by Instagram that its account was being limited to "protect our community".
1500tasvir called the move "unbelievable" and warned that it was the only way Iranians could communicate with the world, particularly those living in small towns and villages.
"Instagram is acting for the dictator's benefit in Iran," it alleged.
The former content moderator told the BBC that he "personally knew some reviewers who supported the Iranian regime and received instructions from Iran".
The man - who, like the current moderator, spoke on condition of anonymity - worked for Telus International, the third-party company responsible for dealing with reports and complaints from Instagram and Facebook users.
"A reviewer can independently delete a post that has been reported without facing any serious consequences," he said.
"If an auditor realises, at most your accuracy rate may drop a percentage [point] or two."
Telus International, whose Persian-language moderators are based in Germany, told the BBC that it believed the allegations were false, but that it took them very seriously and had launched an investigation into their merits.
The company said in a statement that it "does not have, nor has it ever had, any ties to the Iranian government".
"The processes in place eliminate the ability of reviewers to insert personal or political opinions into their job," it added.
"Our team members review a randomized set of content to determine if it violates our client's policies, standards and guidelines, removing any room for subjectivity.
"These decisions are frequently audited for accuracy and to uncover any potential biases. Additional reviews have been undertaken and have found no validity to these claims."
Telus International said all moderators it hired underwent a comprehensive screening process that included a background check to confirm their qualifications for the role.
A spokesperson for Meta Platforms told the BBC: "We see no evidence to support these claims. Our review teams remove content that breaks our rules."
"Those rules are deliberately detailed to avoid room for bias or interpretation, and reviewers' decisions are regularly audited to help ensure accuracy."
However, the current and former content moderators who spoke to the BBC claimed that only about 10% of their decisions were audited.
Meta said weekly audits were implemented and based on a random sample to maintain quality and accuracy, and to understand where mistakes had been made. It added that jobs were allocated randomly, so no moderator would be able to guarantee that they would be reviewing a certain piece of content.
The company said the audits helped it identify mistakes so that it could take remedial action. It also said that recent audits of Persian-speaking moderators in Germany "have shown high levels of accuracy and are consistent with our results across other review sites and other languages".
Telus International said that some of its moderators had been accused on social media of working for the Iranian government and of purposely removing content from Instagram to influence public opinion. It believes that the accusations are false and that they risk endangering the safety of the moderators.
A third former moderator also told the BBC that the Iranians working for Telus International, many of whom are students, were "decent people who follow the company's guidelines".
All three interviewees said it was likely that some videos of the protests were removed because they included people shouting: "Death to Khamenei".
Meta has previously said that its guidelines around incitement of violence prohibit calls for the death of a head of state. However, in Iran the phrase "Death to..." is commonly chanted at protests to express discontent with something or someone, rather than to express an actual threat.
Mahsa Alimardani, a researcher on freedom of expression and access to information online in Iran at the Oxford Internet Institute, documented more than 200 instances of Instagram posts being removed during the protests over the lack of access to water that erupted in south-western Iranian province of Khuzestan in July 2021.
"There was a clear problem of attributing traditional protest slogans that are inevitably used during any protest in Iran's past 40+ year history of 'Death to the dictator' or 'Death to Khamenei' under Meta's policies of 'violence and incitement'," she said.
Vice News reported at the time that following similar complaints from users, Meta made a temporary, two-week exception to its policies and allowed people to post the phrase "Death to Khamenei" or post a video of people chanting it.
"We are no longer seeing exceptions rolled out, presumably because of the backlash they received over their really well publicised Ukraine exceptions after the Russian invasion," Ms Alimardani said.
The decision came after Meta said it would temporarily allow its users in some countries call for violence against Russian President Vladimir Putin and Russian soldiers.
The United Nations human rights office was among those to express concern about that policy, warning that it lacked clarity and "could contribute to hate speech directed at Russians in general".
Additional reporting by Bamdad Esmaili