Israeli police accused of violence towards shot Palestinian's family
By Tom Bateman
BBC Middle East Correspondent, Jerusalem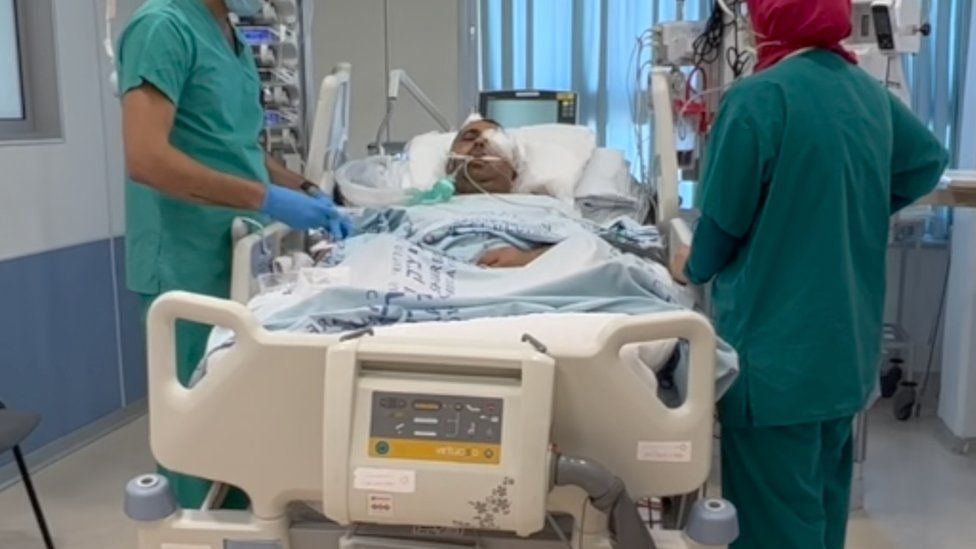 The family of a Palestinian man left seriously wounded after Israeli police stormed a cemetery have accused officers of using unjustifiable force.
Nader al-Sharif remains unconscious in hospital with a fractured skull after eyewitnesses say he was hit by a rubber-coated bullet fired by Israeli forces on Monday.
It happened during one of the worst nights of violence in weeks in Jerusalem surrounding the funeral of Mr Sharif's relative Walid, who suffered fatal wounds when police raided al-Aqsa mosque compound last month.
Police say they acted because of "violent disturbances" in the graveyard and elsewhere in which their officers were attacked.
Mr Sharif, 50, had just finished filling the grave with soil when Israeli forces fired at him according to witnesses. His family says he had done nothing wrong and video of the incident appears to show him amid gravestones gesturing to officers not to shoot.
It comes amid a rapidly deteriorating atmosphere as Palestinians accuse Israeli security forces of growing brutality against them in occupied East Jerusalem. The police routinely deny this, instead blaming "rioters" during recent incidents and adding they will uphold security.
The funeral came just three days after that of Al Jazeera journalist Shireen Abu Aqla, at which security forces kicked and beat pallbearers and fired stun grenades into the crowd of mourners, sparking international condemnation.
Speaking to the BBC, the Sharif family say they now feel under attack by security forces. After Nader was taken to hospital, another relative was injured after he appeared to be hit by police at the entrance in an "unprovoked" attack, an account backed by video he filmed at the time.
As the week began, the Sharif family were grieving for Walid and relatives were closely involved in helping with the funeral. Police had tried to limit the number of mourners because of controversy surrounding his death.
In April, according to eyewitnesses Walid al-Sharif, 21, was struck by a rubber bullet fired by Israeli forces near al-Aqsa mosque compound. But police claimed he fell over and hit his head while throwing stones at them. He suffered serious brain injuries and died last week.
On Monday, his older cousin Nader had just finished carrying out the task of filling Walid's grave with soil.
Simultaneously, heavily armed police raided the graveyard saying they had been attacked by youths throwing stones and rocks.
Nader's wife Maalam says he raised his hands to assure police he "did not intend to cause trouble, but they did not care and shot him".
"I am really very hurt because Nader is such a good dad, always urging his children to avoid trouble," she told the BBC.
Israel police said they were acting against "rioters" on Monday, which saw running street battles in part of East Jerusalem. Police injured dozens of Palestinians by firing rubber bullets, stun grenades and tear gas, while videos showed solar panels, a concrete slab and a water tank thrown at police from rooftops.
Police say stones, planks and bottles were thrown at them from within the graveyard and at least 11 officers were injured.
After dropping to the ground among the gravestones, Nader al-Sharif was rushed to hospital suffering a serious head injury. The family say doctors told them a rubber-coated bullet remains lodged in his skull and will require surgery to remove.
Asked about his injuries, Israel police said: "Insofar as allegations arise regarding the conduct of the police officers in the incident, their place should be examined by the competent authorities."
What happened next led the family to feel they were being "maliciously" targeted by the Israeli authorities.
Officers were by now in the hospital guarding Nader. Family members say they arrested him even though he was unconscious in his hospital bed.
One of his brothers, Nael, says officers told the family they were there because Nader was a "terrorist".
"[The police] told us it is forbidden for anyone to enter his room. He had just finished burying his cousin, what sin had he committed to receive such treatment?" said Nael.
Video seen by the BBC shows Nael and other family members later being asked to leave the hospital by police and security staff, who told them they had entered a medical recovery room "without permission". The family say they simply entered through an open door to attend to Nader and did nothing wrong.
The pictures show family members standing in the hospital entrance telling police and security officers they won't leave the building. There is no aggressive behaviour or violence by the family.
Within minutes, heavily armed police arrive on motorbikes. One of the officers shoves Mr Sharif's brother, Nael, shouting at him to "get back". As Nael fumbles with the camera, a blow can be heard and Nael begins to scream, falling to the floor.
"I fell on the ground, they hit my back. I had chest pain and couldn't breathe. They didn't leave me and kept hitting me even after I fell to the ground," he said.
Eyewitnesses say he was hit without provocation. He was then taken by medical staff on a stretcher and needed hospital treatment.
The family are demanding answers.
"Discrimination and racism are practiced against us by the [Israeli] occupation," says Nael. "They make you feel that you are not welcome here, and this causes psychological pain."
In a statement, Israel police said they were called to the hospital after a report that family members had become agitated.
"Another team of police officers was called to the scene and were forced to use reasonable force to evacuate the family members who entered the medical area without a permit and refused to leave," it said.
The case highlights the increasingly volatile atmosphere in Jerusalem, which this week helped further destabilise Israel's already fragile government.
An Israeli Arab MP, Ghaida Rinawie Zoabi, resigned from the coalition, leaving it with a minority of 59 in Israel's 120-seat parliament.
Her resignation letter cited the events surrounding Walid al-Sharif's funeral and that of Ms Abu Aqla. "[This] led me to the decision that I cannot support a coalition that is disgracefully harassing the society I come from," she wrote.