Jerusalem holy site clashes fuel fears of return to war
By Yolande Knell
BBC News, Jerusalem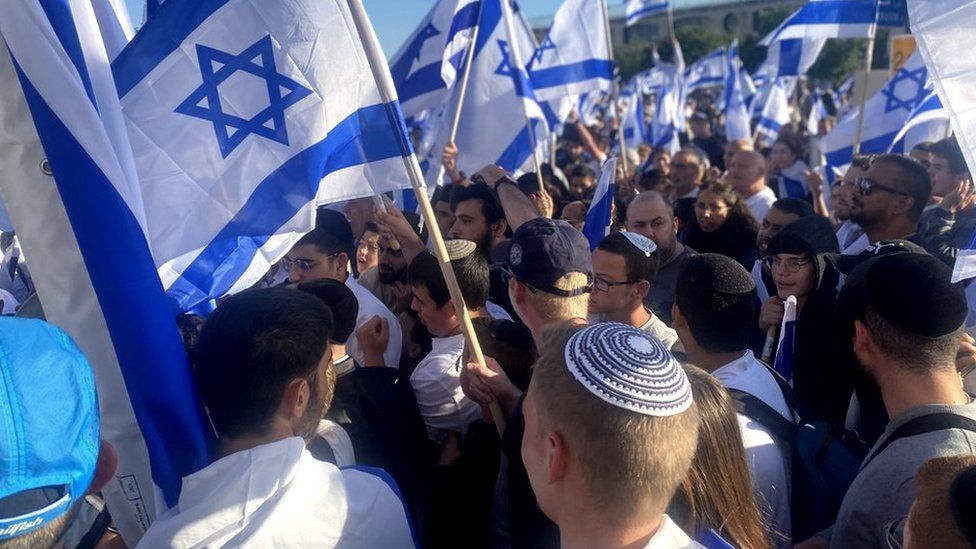 Waving or wearing Israeli flags, hundreds of right-wing nationalist marchers shouted angrily by the wall of Jerusalem's Old City as Israeli police blocked them from heading to the main gate to the Muslim Quarter.
As we waited to see exactly what would happen, so was Israel's prime minister. A right-wing nationalist himself, some of those here once supported Naftali Bennett. But not anymore. Angry chants on Wednesday told him to "go home".
"We came here because it's the Passover holiday, to show that this city is ours, that it belongs to the nation of Israel," said Matan, gripping the hand of his smallest child. "This is our city, our capital, our country."
The prevailing feeling was that as the leader of an ideologically diverse coalition, which includes an Arab Islamist party, Mr Bennett had sold out and failed to deal effectively with recent tensions in Jerusalem.
A prominent banner declared his rival, the opposition leader Benjamin Netanyahu, to be "king", and there were big cheers for far-right politician, Itamar Ben Gvir.
He told me that Mr Bennett was being held back from doing the correct thing by his fragile government, which recently lost its parliamentary majority after one of his own MPs quit, saying she could not be part of it anymore.
"It's not our prime minister's orders, it's the power of the coalition," Mr Ben Gvir said.
"Naftali Bennett was ordered not to allow Jews onto the Temple Mount," he added, referring to a contested holy site in Jerusalem that is known to Muslims as Haram al-Sharif and is the location of the al-Aqsa Mosque. "They gave him instructions to free 400 terrorists who threw stones."
The march had been officially barred from its original planned route and Mr Ben Gvir was also stopped from using his parliamentary immunity to head to Jerusalem flashpoints because of security concerns.
The prime minister accused Mr Ben Gvir of a "political provocation", adding that his intended actions would have endangered police and soldiers whom, he said, were fighting terrorism "with determination".
Israel's unusual coalition government rose in the wake of last year's 11-day conflict with Palestinian militants in the Gaza Strip.
Now, the danger is that it could be pushed to collapse by a similar set of events. Concerted efforts to plan for heightened tensions exacerbated by religious holidays coming together have failed to stop a new escalation in violence.
Last Friday saw hours of clashes in the al-Aqsa Mosque compound, just after dawn prayers. Video clips on social media that circulated across the Arab world raised anger.
Israeli police sent up clouds of tear gas, threw stun grenades, and hit people with batons. They said they acted to stop masked rioters, some of whom had thrown fireworks and stones towards the adjacent Western Wall, the holiest place where Jews are allowed to pray.
Later, officers could be seen inside the mosque with Palestinians lying on the ground as they were arrested. Several hundred people were detained, most of whom were later released. More than 150 were injured.
"I think the Israelis are trying to start a war instead of pushing for peace," said Mohammed Qasqas, from Battir in the occupied West Bank, who has been heading into Jerusalem for Friday prayers during the Islamic holy month of Ramadan.
"It's really driving everyone crazy. When you don't feel safe to pray that's the worst thing you can think of."
Adding to the tensions at al-Aqsa Mosque is the idea that there could be changes to long-standing "status quo" arrangements. Israel denies that is the case and says that it acts to preserve freedom of worship.
Palestinian Muslims fear that the complex will be partitioned to make a space for Jewish prayer. Rumours repeatedly circulated during the Passover holiday that Jews would return to the practice of sacrificing goats at the site, as they did in biblical times before the Romans destroyed their temple there.
An extremist Jewish group had put up a Facebook post offering 10,000 shekels ($3,000; £2,400) to anyone who carried out such an act, and Israeli police arrested several people on suspicion of planning a sacrifice after a goat was found in one of their homes.
On successive mornings this week, there were renewed clashes at the al-Aqsa Mosque compound, as heavily armed police tried to clear the courtyard of Muslim worshippers to make way for hundreds of Jewish visitors, many of whom arrived barefoot to avoid desecrating the site.
"This has been going on for years now. It's not new. It's not any change in the status quo," said the deputy mayor of Jerusalem, Fleur Hassan-Nahoum, in a briefing to journalists, which underlined the confusion and contentiousness about what is allowed.
"It's a custom that a very, very limited group of Jewish people goes up to pray on the Jewish holidays," she insisted - as a reporter pointed out the ban on Jews openly praying there.
While the refrain from Palestinian militant groups that al-Aqsa remains "a red line", many ordinary people in the Gaza Strip insist they do not want war, as they prepare for the Eid al-Fitr feast at the end of Ramadan.
"We wait for this period every year because we work 15 times more than usual," said Mohammed al-Mughrabi, a hairdresser whose shop was previously damaged by Israeli air strikes.
"I pray to God every day that war does not happen because I will unfortunately have to close the salon and lay off five employees. We do not want war. I call on Egypt and the United Nations to pressure all parties to stop the escalation."
This week raised fears of renewed violence, as for the first time in months militants in Gaza launched two rockets into southern Israel and then used anti-aircraft fire against Israeli war planes as they struck Hamas targets in response.
Although no serious injuries were reported on either side, the sleepless nights brought back painful memories of previous conflicts and fears of a slide into a new conflict.
The US state department has called on Israeli and Palestinian leaders to "end the cycle of violence" and sent top diplomats to meet officials in the West Bank and Israel, as well as Jordan - the historic custodian of Jerusalem's Muslim and Christian holy sites - and Egypt, which negotiated last year's truce.
However, the Palestinians are calling for increased international involvement. A senior official from President Mahmoud Abbas's Fatah faction complained to me that the world seemed distracted, accusing the US and others of "limp diplomacy".
"We are losing hope, as we see that the international community is using double-standards vis-à-vis Palestine versus the war between Russia and Ukraine," he said.
"Meanwhile, the situation here is very volatile and about to ignite any minute."