Lebanon deadly petrol tank blast sparks protest at PM-designate's home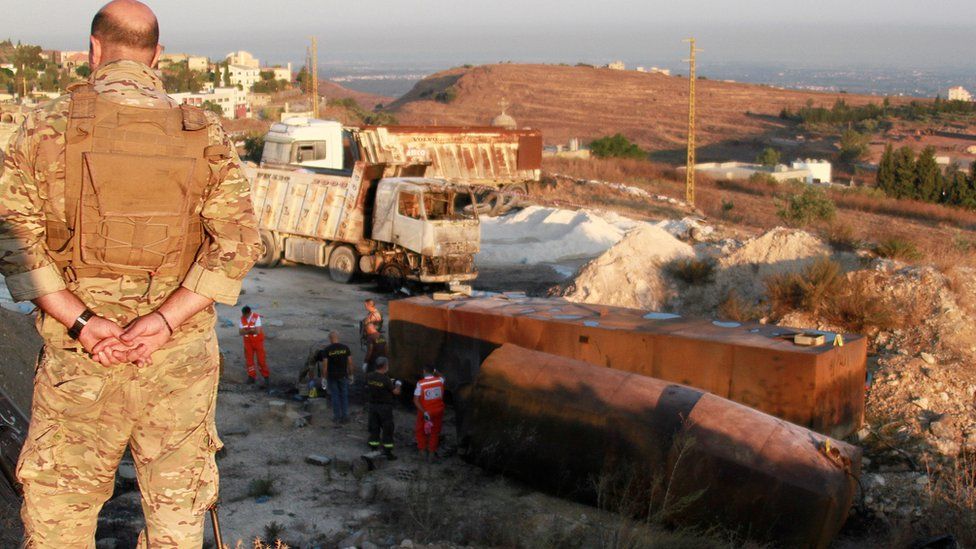 Protesters attacked the home of Lebanon's prime minister-designate after a petrol tank explosion killed 27 people and injured 79 others on Sunday.
Dozens of demonstrators demanded Najib Mikati's resignation, threw stones at his house and clashed with police.
Mr Mikati said he understood "the cries of people" but condemned what he called the "unacceptable vandalism".
The army said the explosion occurred as soldiers handed out petrol seized from black marketeers in the Akkar region.
The cause of the blast was not clear, but a large crowd was gathered around the tank at the time, it added.
"We were informed that the army was distributing gasoline... so people flocked to fill it in plastic containers," Marwa al-Sheikh, whose brother Ismail was badly burned on his arms and legs, told AFP news agency.
She said some witnesses had told her that the explosion happened after someone used a lighter, but that others had claimed that shots were fired.
"The dead are victims of a careless state," she added.
Caretaker Prime Minister Hassan Diab - whose government resigned after the devastating explosion in Beirut a year ago but has not been replaced because of political deadlock - called the explosion a "tragic catastrophe" and declared a national day of mourning for Monday.
The army said it was investigating the circumstances that led to the blast and had arrested the owner of the land in the town of al-Tleil where the tank was located. Locals also reportedly set fire to his house.
Fuel is scarce in Lebanon, which is in the grips of one of the world's worst economic crises in modern times.
The currency has collapsed over the past two years, causing inflation to skyrocket, and more than half of the population live below the poverty line.
Last week, the central bank unilaterally decided to end fuel subsidies because of its dwindling reserves of foreign currency.
The government condemned the move and said fuel prices must not change.
Security forces began on Saturday to distribute fuel allegedly being hoarded by petrol stations and by individuals in tanks like the one in Akkar.
Much of Lebanon relies on private generators and the fuel shortages have left many people and institutions with just two hours of electricity a day.
Some of the hospitals who treated those injured in Sunday's explosion have warned that they may be forced to close without regular supplies of fuel.