Israel: Jewish and Arab mobs spread violence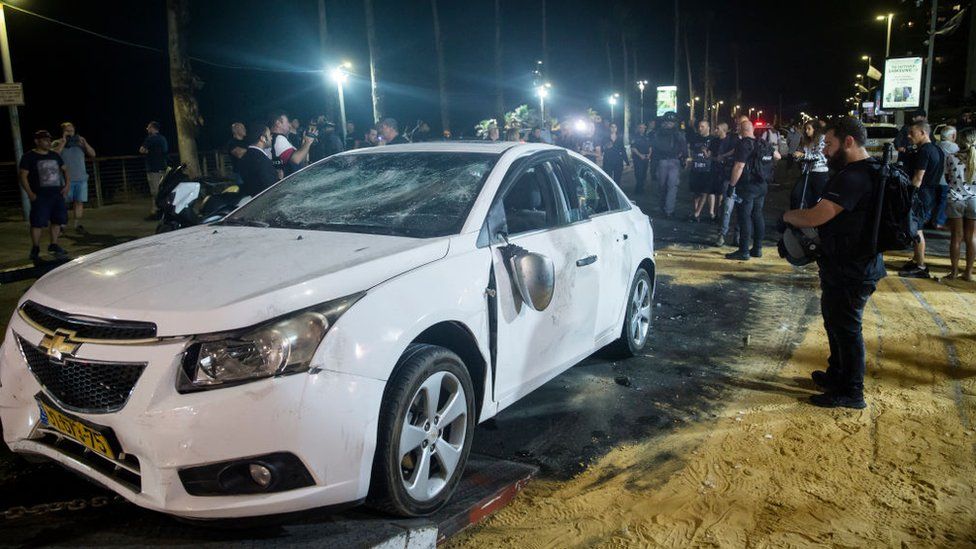 A man is pulled from his car by an angry mob and severely beaten near the Israeli city of Tel Aviv. As he lies motionless on the ground he is hit repeatedly in the head. The crowd eventually leaves him lying in the middle of the road.
In Acre, a car is attacked with rocks. When the driver tries to flee he is kicked to the curb and beaten with sticks as he tries to cover his head with his hands.
Politicians from all sides and parties have condemned the civil unrest. In a statement, Prime Minister Benjamin Netanyahu described it as "intolerable".
"Nothing justifies lynching Arabs among Jews, and nothing justifies lynching Jews among Arabs," he said, adding that the country was fighting a battle "on two fronts".
'A lynching in real time'
Amid a wave of unrest gripping the country, two incidents on Wednesday night caused the most outrage.
Camera crews broadcast the moment live on public television when a crowd of Jewish Israelis attacked a driver in Bat Yam, a coastal city just south of Tel Aviv.
After vandalising Arab-owned property in the city - including the ice cream parlour Victory - the mob turned on the driver on the beachfront promenade. While they said the man was trying to ram them in his car, camera footage shows him trying to reverse away from and then speed past the violent crowd.
"We're watching a lynching in real time," the reporter said off camera. "There are no police here."
Police reportedly did not arrive at the scene for 15 minutes after the assault. The man - thought to be an Arab - is "seriously injured but stable", according to Tel Aviv's Ichilov hospital.
The attack brought condemnation from all sides. Far-right Jewish politician Betzalel Smotrich said he was "ashamed" of the attack's "atrocious cruelty" while Issawi Fredj, Arab lawmaker for the left-wing Meretz party, said it was a sign the country was heading for "civil war".
The Times of Israel reports that Jewish mobs also took to the streets of Haifa and Tiberias, with chants of "Death to Arabs" reported. An Arab was stabbed in the Mahane Yehuda market in Jerusalem, the newspaper said.
A Jewish man in his 30s is now reportedly in a serious condition at the Galilee Medical Center after Israeli Arabs attacked a driver in Acre. Police said they were armed with sticks and rocks, and footage reportedly from the scene shows a group chasing and beating the man on the ground as he tries to protect himself.
"We were near the area when we saw the wounded man lying unconscious and suffering from a bleeding head injury," a medic told the Jerusalem Post. "We immediately began life-saving medical treatment that included bandaging and breath support and evacuated him in stable condition for further treatment at the hospital."
Israeli opposition leader Yair Lapid condemned the violence, which he described as a "complete loss of control".
"Jewish and Arab rioters declared war on Israel," he said in a series of tweets.
"The rioters in Lod and Acre do not represent Israeli Arabs, the rioters in Bat Yam... do not represent Israeli Jews," he wrote. "The extremists will not ruin our lives."
Who are the Israeli Arabs?
In total, about 21% of Israel's population are Israeli Arabs - some 1.96 million people, according to a December report by Israel's Central Bureau of Statistics.
During the war that surrounded the creation of the State of Israel in 1948, hundreds of thousands of Arabs were forced from or fled their homes. Those who stayed in what became Israel, and their descendants, have been granted citizenship and are known as Israeli Arabs.
About 80% of Israeli Arabs are Muslim, with the rest identifying as either Christian or Druze. Most identify strongly with Palestinians in Gaza and the West Bank, with many calling themselves "Palestinian citizens of Israel".
Israel's government says its Arab citizens have equal social and political rights, although they are exempt from compulsory military service.
But Israeli Arabs themselves say they are treated as second-class citizens who face legal, institutional and social discrimination.