Israel: Netanyahu rival Lapid asked to form new government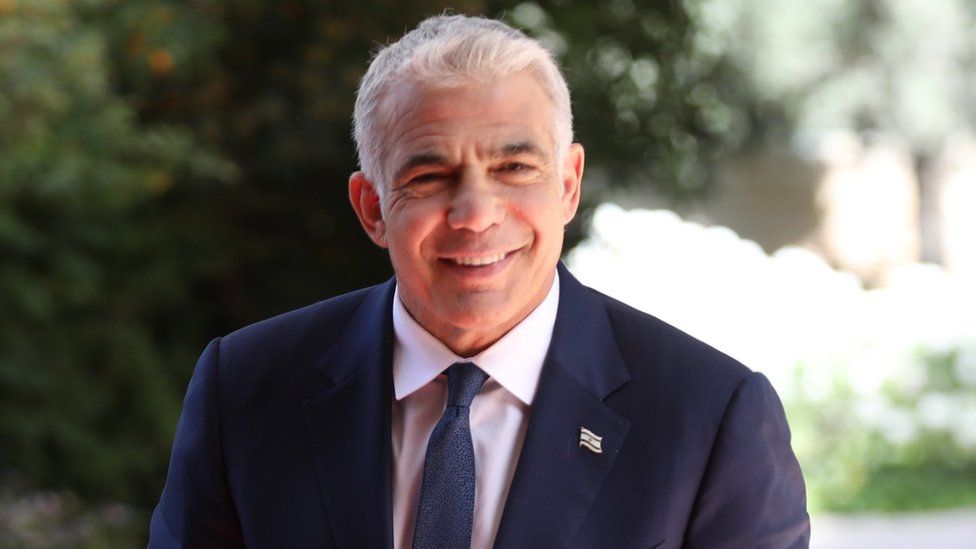 Israel's president has asked the leader of the centrist Yesh Atid party, Yair Lapid, to try to form a government.
Reuven Rivlin announced that he had given Mr Lapid the mandate after long-time Prime Minister Benjamin Netanyahu failed to meet an overnight deadline.
Yesh Atid came second to Mr Netanyahu's right-wing Likud party in March's inconclusive general election.
Mr Lapid faces a challenge to bridge the ideological differences between the parties he can ask to join a coalition.
If he fails to secure a majority in the 120-seat parliament, the Knesset, there is a risk of the country having to go to elections for the fifth time in two years.
In a televised address on Wednesday evening, President Rivlin said he had decided to give Mr Lapid a 28-day mandate to form a government after 56 lawmakers expressed support for his candidacy.
"From the number of recommendations, it is clear that Yair Lapid could form a government that has the confidence of the Knesset, despite there being many difficulties," he added.
He noted that Naftali Bennett, the leader of the right-wing Yamina party, which has seven seats, had called for a stable government and not ruled out the possibility of joining a coalition with Mr Lapid.
Mansour Abbas, the head of the Arab Islamist party Raam, which has four seats, had meanwhile stated that he would "co-operate positively" with anyone given a mandate, he added.
In a statement after the announcement, Mr Lapid promised to do everything he could to form a government as soon as possible.
"After two years of political paralysis, Israeli society is hurting. A unity government isn't a compromise or a last resort - it's a goal, it's what we need," he said.
"We need a government that will reflect the fact that we don't hate one another. A government in which left, right and centre will work together to tackle the economic and security challenges we face. A government that will show that our differences are a source of strength, not weakness."
The 57-year-old former finance minister has previously said that he would be prepared to share the premiership with Mr Bennett as part of a rotation agreement, with the latter leading the country for the first two years.
Earlier on Wednesday, Mr Bennett called for the formation of a "broad emergency government" that would "get the wheel out of the mud".
"This is the time to stop and reconsider a new path. Whoever cynically takes the State of Israel to fifth elections based on personal interests, in complete opposition to the needs of the nation and state, the people won't forgive him."
Likud, which controls 30 seats, blamed the prime minister's failure to form a coalition before the deadline ended at midnight on Mr Bennett's "refusal to commit to a right-wing government".
Mr Netanyahu told his former protégé and defence minister on Monday that he would be willing to hand over the premiership to him for one year. But Mr Bennett dismissed the proposal, saying that even with Yamina's support Mr Netanyahu would still be two seats short of a majority.
The far-right Religious Zionism alliance had also ruled out joining a coalition supported by Raam, which was open to working with Mr Netanyahu to address the needs of Israel's Arab citizens.
The 71-year-old is Israel's longest-serving leader, having led five governments since 1996. The last, which saw him share power with the then-main opposition party to help tackle the coronavirus pandemic, collapsed in December, triggering the latest election.
You might also be interested in: