Jordan Prince Hamzah: Reporting on 'destabilisation plot' banned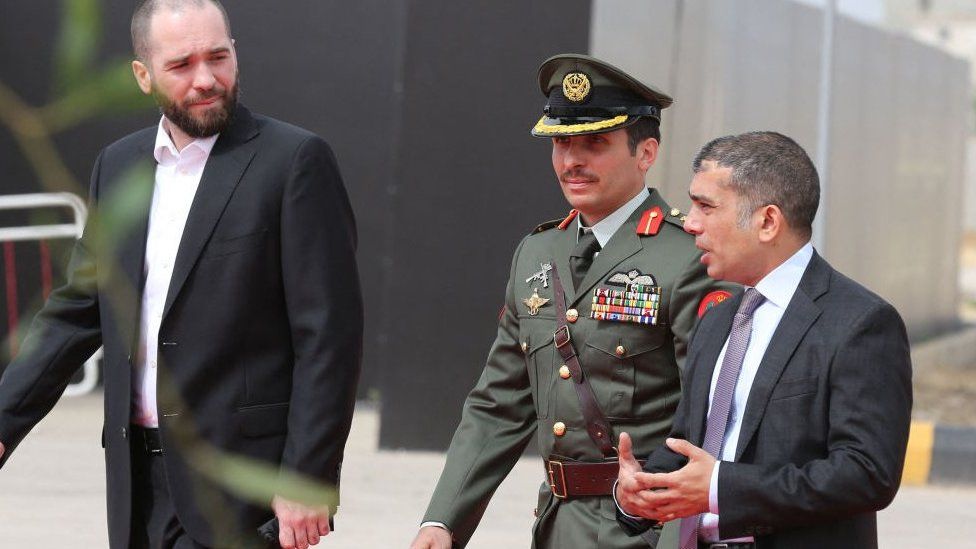 Jordan has banned reporting about an alleged plot to destabilise the country, said to involve controversial ex-Crown Prince Hamzah bin Hussein.
The prosecutor general said the ban extended to social media networks.
Over the weekend, the government accused Prince Hamzah, 41, of conspiring against the kingdom.
Details have now emerged of an apparent angry exchange between the prince and the military chief of staff about restrictions on the prince's freedom.
Prince Hamzah denied the conspiracy allegation, but in an apparent easing of tensions late on Monday the prince signed a letter confirming his loyalty to Jordan's King Abdullah.
In the letter, released by the palace, Prince Hamza is quoted as saying: "I place myself in the hands of his majesty the king... I will remain committed to the constitution of the dear Hashemite Kingdom of Jordan."
The letter came after mediation - officials said the king had asked his uncle, Prince Hassan, to help resolve the unprecedented tensions.
The public rift between Prince Hamzah and King Abdullah is unprecedented. Tensions within the royal household, however, have reportedly been present for some time.
Meanwhile, neighbour and regional power Saudi Arabia has reaffirmed its support for Jordan's government.
On Monday, Saudi Foreign Minister Faisal bin Farhan arrived in the Jordanian capital Amman and met his counterpart Ayman Safadi, Jordan's foreign ministry said.
Jordan's state media carried a statement by Prosecutor General Hassan al-Abdallat saying the ban applied to all news outlets and social media platforms, and covered all images and video clips related to the inquiry.
"To safeguard the secrecy of the investigations being undertaken by the security services in relation to His Highness Prince Hamza bin Hussain and others, Amman's public prosecutor has decided to ban the publication of everything related to the investigations at this stage," it said.
The Hashemite Kingdom of Jordan
Capital: Amman
Population 6.5 million

Area 89,342 sq km (34,492 sq miles)

Major language Arabic

Major religion Islam

Life expectancy 72 years (men), 75 years
Getty Images
Correspondents say Jordan regularly restricts reporting of cases considered to be sensitive, for which they are often criticised by civil activists and human rights campaigners.
What led to this situation?
On Saturday, Prince Hamzah released two videos to the BBC in which he claimed he had been placed under house arrest. He said a senior official had told him he was not allowed to go out or communicate with people because of criticisms of the government or king voiced at meetings where he had been present.
The apparent arrest is thought to have followed a visit by the prince to tribal leaders, where he is said to have garnered some support.
The chief of staff is quoted as saying that Prince Hamzah should not "mingle with any circles, internally or externally" or use social media. Later he says that he has "crossed red lines".
Prince Hamzah responds by asking Maj-Gen Suneiti if he is threatening him and then asking him to leave his house.
On Sunday, Deputy Prime Minister Ayman Safadi said the prince had been liaising with foreign parties about destabilising the country and had been monitored for some time.
He accused the prince of seeking to mobilise "clan leaders against the government". Mr Safadi said officials had tried to discourage the prince rather than take legal action, but Prince Hamzah had "dealt with this request negatively".
He added that at least 16 people, including a former adviser to King Abdullah and another member of the royal family, had been arrested over the plot. But no members of the armed forces were said to be among those detained.
Also on Sunday, Jordan's opposition released a recording in which a defiant Prince Hamzah said he would not obey orders from the authorities.
The oldest son of the late King Hussein and his favourite wife Queen Noor, Prince Hamzah is a graduate of the UK's Harrow School and the Royal Military Academy at Sandhurst. He also attended Harvard University in the US and has served in the Jordanian armed forces.
He was named crown prince of Jordan in 1999 and was a favourite of King Hussein, who often described him in public as the "delight of my eye". However, he was seen as too young and inexperienced to be named successor at the time of King Hussein's death in 1999.
Instead his older half-brother, Abdullah, ascended the throne and stripped Hamzah of the title of crown prince in 2004, giving it to his own son. The move was seen as a blow to Queen Noor, who had hoped to see her eldest son become king.
High-level political arrests are rare in Jordan. The country's powerful intelligence agency, however, has gained extra powers since the pandemic began, drawing criticism from rights groups.
A key Western ally, Jordan is a constitutional monarchy, but the royals play a major role in public life and King Abdullah has extensive powers. He can appoint governments, approve legislation and dissolve parliament.