Israel election: PM Netanyahu short of majority as vote count ends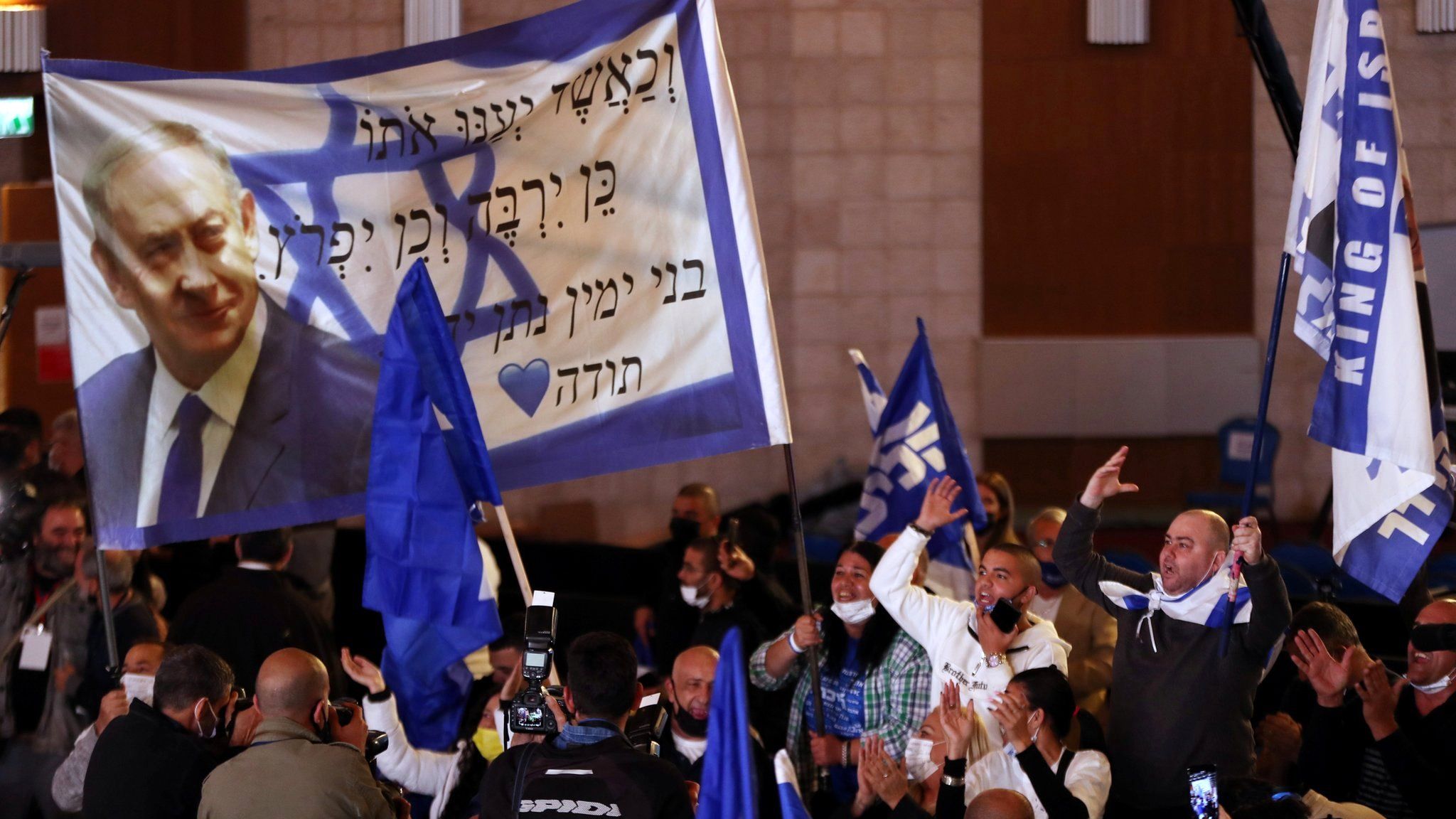 Israeli PM Benjamin Netanyahu could struggle to secure enough parliamentary seats to stay in power, preliminary results from Tuesday's election show.
Local media said Mr Netanyahu's right-wing bloc would end up with 52 seats - nine short of the threshold.
In a surprise development, an Arab party which is projected to get four seats could hold the balance of power.
The outcome will among other things determine the course of Israel's relations with the Palestinians.
The Arab party, Raam, has not declared whether it will support the efforts of Mr Netanyahu - not a natural ally - to form a governing coalition or those of the bloc of parties opposed to him remaining in office.
The Netanyahu opponents are set to win 57 seats, and although backing from Raam could give them a majority, they are fragmented and unlikely to be able to agree to work together.
If neither bloc succeeds, the country could face its fifth election since 2019.
What do the results show?
Israel's electoral system, a form of proportional representation, makes it almost impossible for a single party to win an election outright.
According to the Central Election Commission, the prime minister's right-wing Likud party won 24.2% of the vote. The centrist Yesh Atid party of the main opposition leader, Yair Lapid, was second with 13.9%.
Israeli media reported that the tallies would result in Likud getting 30 seats in the 120-seat Knesset and Yesh Atid 17.
Mr Netanyahu's political allies, the ultra-Orthodox Jewish parties Shas and United Torah Judaism, were projected to get nine and seven seats respectively; the centrist Blue and White party of Defence Minister Benny Gantz eight; and the centre-left Labour party and the nationalist Yamina and Yisrael Beitenu parties seven each.
The Joint List alliance of Arab parties, the New Hope party of Mr Netanyahu's former-ally-turned-opponent Gideon Saar, the far-right Religious Zionism alliance and the left-wing Meretz party are forecast to win six apiece; and Raam four.
After the initial projections by Israel's main broadcasters on Tuesday night, Benjamin Netanyahu took to the stage smiling at Likud's headquarters. He declared the vote "a great achievement" and spoke of the need for a "stable government" for Israel.
His opponent Mr Lapid said he was "proud" of Yesh Atid's "enormous" achievement and that he would "do everything possible to establish a sane government".
There is plenty of political drama about who is going to sit in Israel's parliament, and especially who is going to be in charge.
But with so little movement from the results of previous elections, this vote shows once again how deeply divided Israeli politics are. There are those who are for Benjamin Netanyahu and those who are against him.
Already there are deals being done and moves being made behind the scenes.
It looks like Mr Netanyahu's best path to securing another term would be a highly unusual one that could involve building a coalition with Jewish ultra-Orthodox, ultra-nationalist and Arab parties. How that would work is almost anyone's guess.
Israelis are left wondering whether this election will ultimately prove to be inconclusive once again and the long period of political stalemate will continue.
Who could tip the balance?
It appears that both Mr Netanyahu and his rivals will require the support of Yamina and Raam to secure a majority.
Raam split from the Joint List earlier this year in part because Raam's leader Mansour Abbas said he was open to working with Mr Netanyahu to address the needs of Israel's Arab citizens, who make up about 20% of the population.
In an interview on Wednesday morning, Mr Abbas said he would not rule out joining any coalition.
"We are not in anyone's pocket. We are prepared to engage with both sides," he told Israel's 103 FM radio station.
However, Bezalel Smotrich, a Netanyahu ally and the leader of Religious Zionism, indicated on Thursday that the prime minister could not rely on its support if he made a deal with Raam.
"A right-wing government will not be formed based on Mansour Abbas's [party]. Period," he tweeted.
An Arab party has never sat in government in Israel, and such parties do not share Mr Netanyahu's right-wing ideology.
Yamina is led by Mr Netanyahu's former protégé and defence minister, Naftali Bennett, with whom he has a difficult relationship.
Like Mr Abbas, Mr Bennett has not announced which side he will throw his weight behind.
"I will do only what is good for the State of Israel," he said after voting ended on Tuesday night.
Why does the outcome matter?
It will determine who is in charge of one of the most powerful countries in the region, a state which the US considers one of its most important allies.
The next government will also shape relations with the Palestinians and Arab countries.
Mr Netanyahu opposes the kind of fully fledged independent state Palestinians are seeking in the Israeli-occupied West Bank, Jerusalem and Gaza, and supports Jewish settlements in the West Bank and occupied East Jerusalem. The settlements are considered illegal under international law, though Israel disputes this.
A centrist or centre-left government would be more likely to try to revive stalled negotiations with the Palestinians and consider territorial concessions in return for peace.
The outcome could also affect Mr Netanyahu's trial on corruption charges, which is due to resume in two weeks' time. Analysts suggest a right-wing government could attempt to block the trial from proceeding. The prime minister denies any wrongdoing.
What were the key campaign issues?
The election was widely seen as a referendum on Mr Netanyahu's leadership.
The 71-year-old prime minister has been in power continuously since 2009, having served an earlier three-year term in the late 1990s.
His campaign focused on Israel's world-leading Covid-19 vaccination programme and his diplomatic success in normalising ties with some Arab countries.
But his opponents from across the political spectrum accused him of mishandling the pandemic and argued that he should not remain in office while standing trial.
After the previous three elections neither Mr Netanyahu nor his rivals were able to form a stable governing coalition.
The current national unity government, which was the result of a power-sharing deal with Defence Minister Benny Gantz, collapsed in December after just seven months.