Yemen conflict: UK cuts aid citing financial pressure from Covid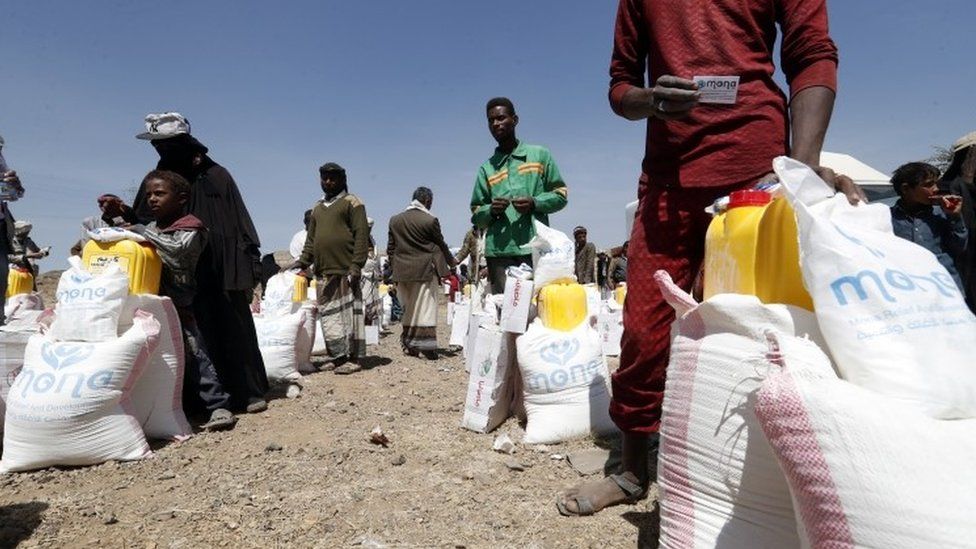 Britain has drastically cut its aid to Yemen, which has been devastated by conflict for six years, saying the pandemic created "a difficult financial context for us all".
The UK government said it would provide "at least" £87m ($120m) this year, down from £164m pledged last year.
Aid officials have condemned the cut. The UN chief, António Guterres, said reducing aid was a "death sentence".
The situation in Yemen has been called the world's worst humanitarian crisis.
The conflict began in late 2014, when rebels seized control of much of the west of the country and a Saudi-led coalition of Arab states launched a military operation to restore President Abdrabbuh Mansour Hadi's rule.
An estimated 20 million people - two-thirds of the Yemeni population - depend on humanitarian assistance. Some two million children are acutely malnourished.
In addition to conflict, Yemen has seen a collapse of its health system, leaving it incapable of coping with the coronavirus pandemic.
How does the UK compare to other donors?
Foreign Secretary Dominic Raab told parliament that the UK remains "as we have over the last five years, between the third and the fifth highest donor into Yemen".
It's true that the UK has consistently ranked in the top five sources of aid funding to Yemen, according to the UN Office for the Coordination of Humanitarian Affairs, which tracks humanitarian spending between countries.
The UN database recorded more than $200m from the UK to the war torn country last year, the third highest amount behind Saudi Arabia ($459m) and the United States ($697m).
Aid from all nations to Yemen has been falling in recent years though. It decreased from more than $5bn in 2018 to about $2bn in 2020, according to the UN.
The cut in the UK's contribution was announced on Monday at a virtual donors' conference by Minister of State for the Middle East and North Africa James Cleverly.
He said "recent global challenges" had "meant a difficult financial context for us all". Funding has fallen off in recent years, just as the pandemic has made needs more acute.
Speaking at the event, UN officials warned that if the UN failed to meet its $3.85bn target for 2021, millions of Yemenis could face starvation. It is unclear how much has been raised so far.
David Beasley, Executive Director of UN's World Food Programme, told the conference: "We've got famine knocking on the door."
Mr Gurerres said that generous donations had averted a famine in 2018, but that "today, reducing aid is a death sentence".
The US pledged an extra $191m at the event - bringing its total aid for Yemen to $350m this year.
An earlier version of the story gave a higher figure (£214m) for the total amount donated by the UK in 2020, which was the pledge (£164m) made at the aid conference last year plus additional spending