Lokman Slim: Prominent Hezbollah critic shot dead in Lebanon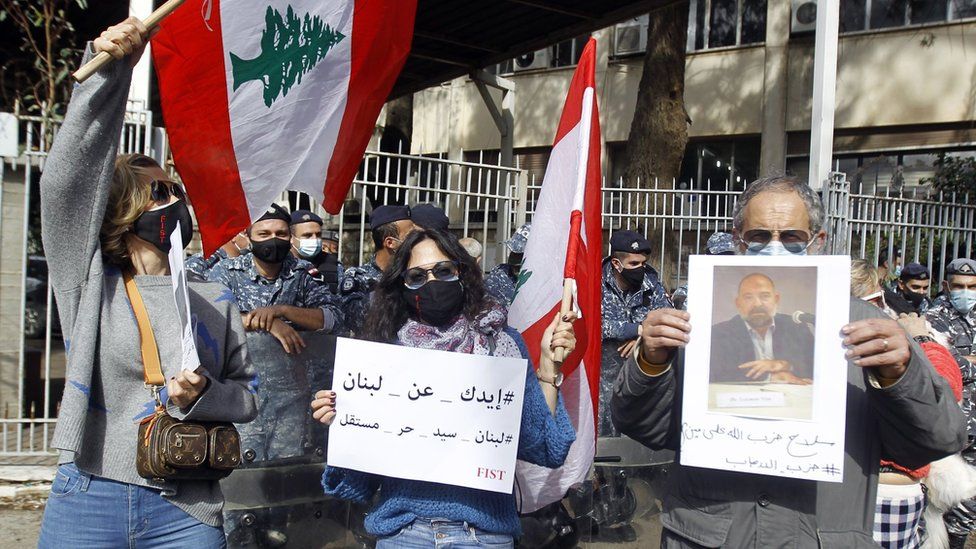 A prominent critic of the powerful Lebanese Shia Islamist militant group Hezbollah has been shot dead.
The body of Lokman Slim, a Shia writer and activist, was found inside his car in southern Lebanon.
Lebanon's prime minister condemned the "heinous crime", which the EU's ambassador called an "assassination".
Security officials said there were no suspects yet, but Mr Slim had blamed leaders of Hezbollah and its allies for death threats he received in late 2019.
At that time he was active in the anti-government protest movement that saw huge crowds demand a complete overhaul of Lebanon's political system.
The protests were triggered by an economic collapse that has led to triple-digit inflation and mass job losses, leaving half the population of six million living under the poverty line.
The country's problems have been compounded over the past year by the coronavirus pandemic and the massive explosion at the port in Beirut six months ago that killed 200 people.
Mr Slim, who was in his late 50s, was the founder of an organisation called Umam Documentation and Research, which seeks to raise awareness of Lebanon's violent past and prevent further conflict. He also helped run his family's publishing house, and hosted public debates and political forums.
His body was discovered near the village of Addoussieh, south of the city of Sidon, on Thursday. He had been reported missing the previous night.
At the family home in the southern suburbs of Beirut, a bastion of support for Hezbollah, Mr Slim's sister said they had heard of his death from news reports.
"What a big loss. And they lost a noble enemy too... It's rare for someone to argue with them and live among them with respect," Rasha al-Ameer told reporters, without saying who she blamed.
"Killing is the only language they are fluent in," she added.
There was no immediate comment from Hezbollah.
President Michel Aoun, an ally of the movement, instructed the public prosecutor to "conduct necessary investigations to find out the circumstances of the assassination" and those behind it.
Caretaker Prime Minister Hassan Diab, who took office in December 2019 with Hezbollah's backing, vowed that "this heinous crime shall not pass without accountability".
"We deplore the prevailing culture of impunity in Lebanon in which such heinous acts take place and demand a proper investigation by the competent authorities."
You can kill a journalist but you cannot kill his or her message. You can muzzle the media but you cannot silence the truth, freedom of expression. Rest In Peace martyr Lukman Slim

— Jan Kubis (@UNJanKubis) February 4, 2021
Former United Nations special envoy Jan Kubis, who left Lebanon last week, described Mr Slim as "a respected activist and journalist, a honest independent voice of courage".
"This investigation must not follow the pattern of the Beirut port blast investigation that 6 months on remains inconclusive and without accountability. People must know the truth," he tweeted.
Lynn Maalouf, Amnesty International's deputy Middle East director, warned that Mr Slim's "shocking killing raises serious fears of a return to targeted killings, fears made all the more acute by the state's failure to deliver any justice for past similar horrific incidents".