Yemen war: US to designate Houthi rebels as terrorist organisation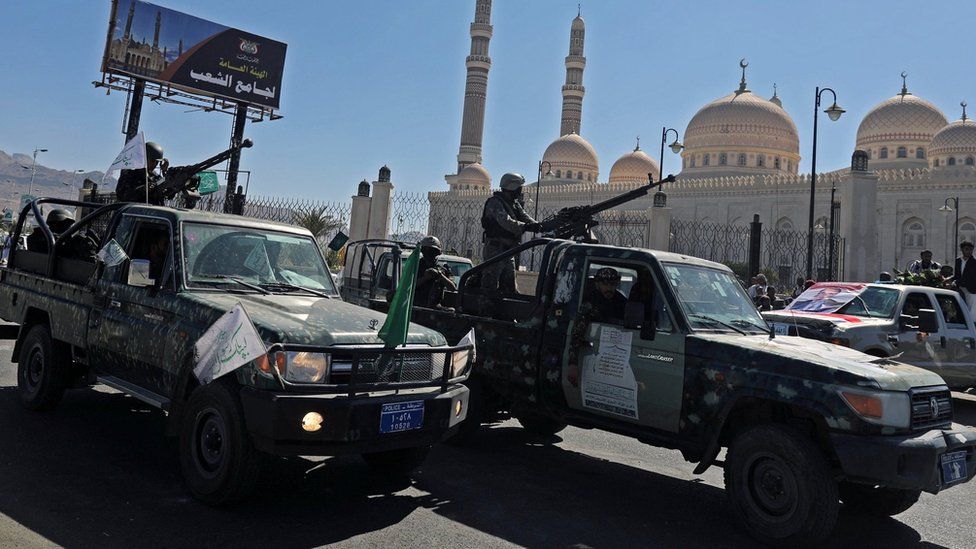 The US plans to designate Yemen's rebel Houthi movement as a terrorist group, despite warnings that it may threaten aid operations in the war-torn country.
Secretary of State Mike Pompeo said the aim was to hold the Houthis accountable for cross-border attacks threatening civilians, infrastructure and shipping.
It would also deter "malign activity" by their backer Iran, he added.
Aid organisations have said they may be prevented from operating in areas where millions are on the brink of famine.
A UN spokesman said it was clear the US decision was "likely to have serious humanitarian and political repercussions", while the president of the International Rescue Committee called it "pure diplomatic vandalism".
A Houthi leader accused President Donald Trump's administration of terrorism and said the movement reserved the right to respond to any designation.
Yemen has been devastated by a conflict that escalated in 2015, when the Houthis seized control of much of the west of the country and a Saudi-led coalition of Arab states launched a military operation to restore President Abdrabbuh Mansour Hadi's rule.
The coalition has received logistical and intelligence support from the US, UK and France, while Iran has denied allegations that it has supplied the Houthis with missiles, drones, and training.
The fighting has reportedly left more than 110,000 people dead and triggered what the United Nations (UN) says is the world's worst humanitarian crisis, with 80% of the population in need of aid or protection.
Mr Pompeo announced late on Sunday that the state department would notify Congress of his intention to designate the Houthi movement - known formally as Ansar Allah (Partisans of God) - as a Foreign Terrorist Organisation (FTO) on 19 January, the day before Mr Trump leave's office.
Three Houthi leaders - Abdul Malik al-Houthi, Abdul Khaliq Badr al-Din al-Houthi and Abdullah Yahya al-Hakim - will also be listed as Specially Designated Global Terrorists.
"The designations are intended to hold Ansar Allah accountable for its terrorist acts, including cross-border attacks threatening civilian populations, infrastructure, and commercial shipping," Mr Pompeo said.
"The designations are also intended to advance efforts to achieve a peaceful, sovereign, and united Yemen that is both free from Iranian interference and at peace with its neighbours."
The secretary of state cited what he called "the callous attack" targeting the airport in the southern city of Aden on 30 December, in which 27 people were killed. The Saudi-backed Yemeni government tied the attack on the Houthis, but they denied any involvement.
"America is the source of terrorism, the Trump administration's policy is terrorist, and its actions are terrorist. It does not matter to the Yemeni people, as it is complicit in killing and starving them," Houthi leader Mohammed Ali al-Houthi tweeted in response on Monday.
He added that the rebels "reserve the right to respond to any designation issued by the Trump administration or any administration".
Yemen's foreign ministry said it supported the move and called for further "political and legal pressure" on the Houthis, Reuters news agency reported.
This designation has been expected for months, so advocates and opponents have been gearing up for it for some time. There has been discussion, too, over whether it should target the Houthis as a group or individuals. A Saudi source recently admitted it would be difficult to determine who was a Houthi.
But US allies in the Gulf are backers of a step meant to send a strong signal to Iran. Some argue it could provide a valuable bargaining chip for the incoming Biden administration to secure concessions. But Western diplomats involved in protracted efforts to start a political process to end this destructive war are convinced this will make it even harder.
The biggest concern is humanitarian. The US says it will ensure life-saving supplies still reach Yemen. Time and again, when sanctions are imposed, it is the most innocent who suffer most. In Yemen, the impact could be catastrophic if the right measures are not put in place.
Mr Pompeo said the US recognised the concerns of humanitarian organisations and would work to reduce the impact on what he called "certain humanitarian activity and imports into Yemen".
"We are working to ensure that essential lifelines and engagements that support a political track and return to dialogue continue to the maximum extent possible."
UN spokesman Stéphane Dujarric told reporters it was imperative that the US "swiftly grant the necessary licenses and exemptions to ensure that principled humanitarian assistance can continue to reach all people... without disruption".
UN Secretary General António Guterres warned in November against a unilateral US designation, saying Yemen was in "imminent danger of the worst famine the world has seen for decades".
Five million people are living "just one step away from famine" in Yemen, and approximately 50,000 are living in "famine-like conditions", according to the UN.
The president of the International Rescue Committee, David Miliband, warned that the designation would make the task of its teams on the ground in Yemen "all but impossible".
"Our concerns are not theoretical or hyperbolic, recent history - especially in Somalia - has shown us that cost of terrorism designations in the middle of complex conflicts and humanitarian crises can be measured in innocent lives lost," he said.
We are already at breaking point in #Yemen. Aid is overstretched, underfunded and in crossfire. Aid must deal with de facto rulers on all sides. This move at this point could break the lifeline to millions. Exemptions for aid work & civilian supplies must be crystal clear. https://t.co/GGZDPDiumE

— Jan Egeland (@NRC_Egeland) January 11, 2021
The Norwegian Refugee Council called on US President-elect Joe Biden to "act upon taking office to ensure Yemeni civilians can still receive life-saving aid".
The organisation's secretary general, Jan Egeland, tweeted that US "exemptions for aid work and civilian supplies must be crystal-clear".
But Oxfam America's humanitarian policy lead Scott Paul expressed doubt that US assurances would be "good enough to convince many of the banks and donors to keep the money flowing".
The best metaphor I can think of is a timely one: we're injecting a fatal virus into a compromised patient and promising to invent a vaccine before the patient succumbs. It's madness. And it's only possible because Yemeni lives are assigned such little value

END

— Scott Paul (@ScottTPaul) January 11, 2021
You may also be interested in: