Loujain al-Hathloul: Saudi activist's trial 'moved to terrorism court'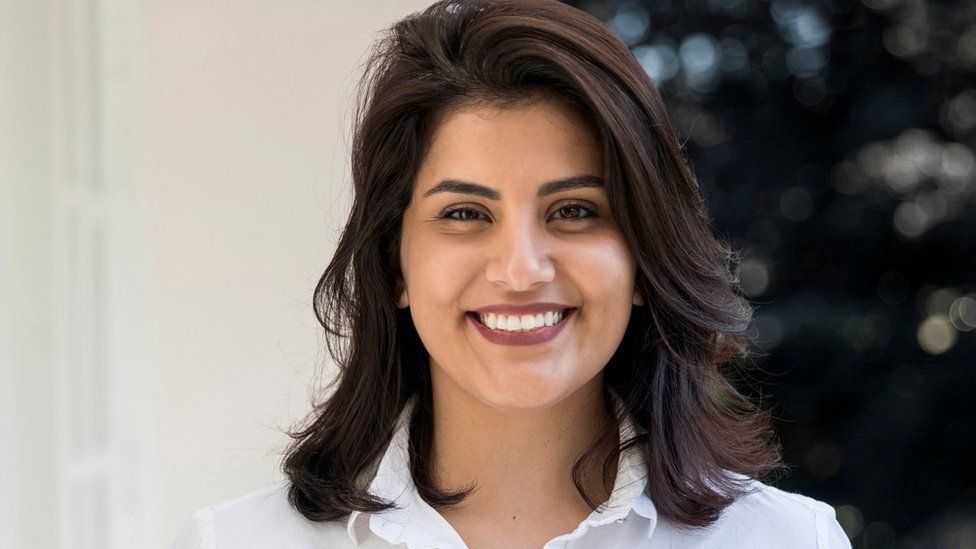 The family of the jailed Saudi women's rights activist Loujain al-Hathloul says her trial has been transferred to a terrorism tribunal.
Ms Hathloul's sister Lina had expressed hope that she would be freed when the trial resumed in Riyadh on Wednesday.
But she said their parents had now been informed that the case would be heard by the Specialised Criminal Court.
Ms Hathloul and 12 other activists are accused of conspiring with foreign organisations hostile to the kingdom.
Last weekend's G20 summit hosted by Saudi Arabia was overshadowed by calls from international human rights groups to free the women and other imprisoned critics of the government.
The kingdom rejected the calls, saying it would not allow people to lecture it.
The BBC's Chief International Correspondent Lyse Doucet, who is in Riyadh, says Loujain al-Hathloul has come to symbolise activists detained in Saudi jails.
The 31-year-old first came to prominence as a campaigner for women's right to drive in the kingdom.
Saudi officials insist her detention has nothing to do with that issue. They say the charges she faces are related to her contacts with foreign diplomats, media, and activist groups.
Ms Hathloul's family say she was held incommunicado for three months following her arrest, and that she was subjected to electric shocks, whippings, and sexual harassment. They also allege that that she was offered freedom if she agreed to say she was not tortured.
The Saudi government denies the allegations of torture.
Loujain was on a hunger strike for 2 weeks (started Oct 26) during which she was checked on regularly. After the 2 weeks they began waking her up every 2hours at night. It exhausted her psychologically, she said she had horrible nightmares and therefore broke her hunger strike. https://t.co/7iRed0vpJl

— Lina Alhathloul لينا الهذلول (@LinaAlhathloul) November 25, 2020
Wednesday's hearing was the first time since 26 October that Ms Hathloul's family has had any news of her since she went on hunger strike in protest over her conditions in detention.
Her sister Lina tweeted that she looked weak and shook uncontrollably when she appeared in court, where their parents were present.
She also said that Loujain had told them that she ended her hunger strike after two weeks because the guards at her prison began waking her up every two hours at night and deprived her of sleep.
To release or not to release - Saudi sources say there is division over how to resolve an issue which casts a dark cloud, whatever the kingdom does.
Some argue it is best to draw a line under the most high profile, highly criticised cases including Loujain al-Hathloul's. Others insist if they make one gesture, they will keep being asked to make even bigger ones.
Crown Prince Mohammad bin Salman said in a 2018 Bloomberg interview there were videos proving Ms Hathloul was a spy. Other reports speak only of contacts with foreign diplomats, media, and other activists. Her family says she was offered freedom in exchange for a letter or a television appearance saying she had not been tortured.
The authorities may be weighing up whether she makes more headlines in, or out, of prison. But a kingdom which does not want to be seen to be bending to the dictates of others may now be mindful that demands are likely to grow louder once President-elect Joe Biden is in the White House.
Ms Hathloul's family are even more worried now that her case has been transferred to the Specialised Criminal Court, our correspondent adds.
Lina al-Hathloul had expressed hope before the hearing that the Saudi authorities would release her sister.
Transferring @LoujainHathloul 's case to the "Terrorism" court doesn't make her a terrorist.
It exposes though the brutality & hypocrisy of #Saudi authorities that instrumentalise "women empowerment" to whitewash their image, while prosecuting women activists under sham charges. https://t.co/zTsl2162hp

— Amnesty Gulf (@amnestygulf) November 25, 2020
After the criminal court ruled there was a "lack of jurisdiction" for it to judge the case, she told the BBC: "Of course I'm disappointed, because the only thing that makes us go on is to be hopeful every time Loujain goes to court.
"But I must say I'm really not surprised, because the first time they announced they would start a trial in March 2019 they first said she'd be tried in the terrorism court. And then a day before the trial they just changed it to the criminal court. So all their decisions are impulsive and unexpected."
She said it was important that her sister's plight was kept in the public eye.
"When we were silent and the world didn't know about her, she was being tortured in an unofficial prison. Every time we don't make noise, she's put in solitary confinement. So I think the only thing that works now with Loujain's case and the other activists' case is outside pressure."
Ms Hathloul is one of five defendants in the case who continue to be detained. Three of the other women - Samar Badawi, Nassima al-Sada and Nouf Abdulaziz - reportedly also appeared in court on Wednesday.