Syria conflict: Hundreds mourn assassinated Damascus mufti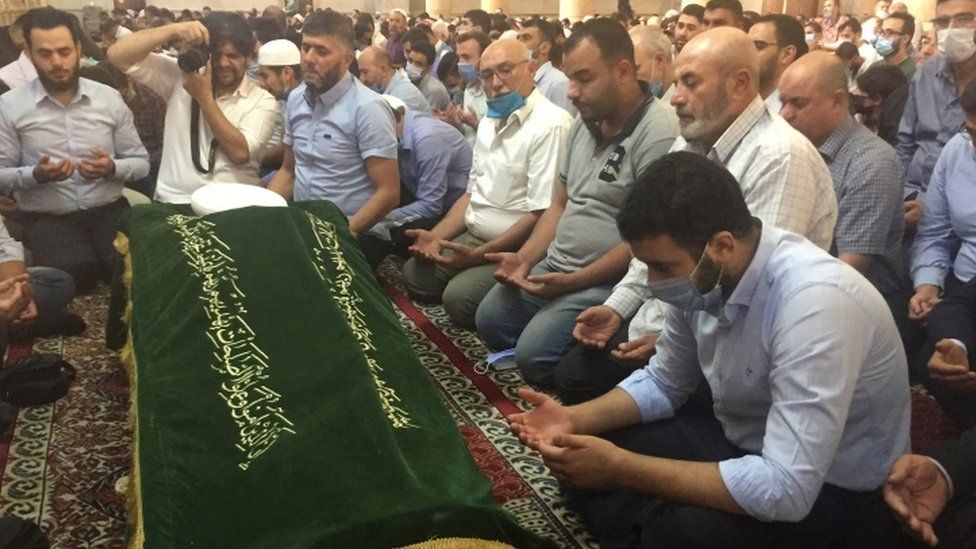 Hundreds of people have attended the funeral of the Sunni Muslim mufti of Syria's capital, Damascus, who was killed by a car bomb on Thursday.
Sheikh Mohammad Adnan al-Afiyuni died when his vehicle was targeted with an explosive device outside the city.
Sheikh Afiyuni, an ally of President Bashar al-Assad, was known for conducting talks with rebels in the Damascus region.
The government now controls most of the country after nine years of civil war.
More than 380,000 people have been killed and 13.2 million others - half of Syria's pre-war population - displaced inside and outside Syria.
Sheikh Afiyuni died in the town of Qudsaya, north-west of the capital, state news agency Sana reported on Thursday. The agency released pictures of his wrecked car.
Mourners followed the coffin as it was carried by clerics down the street towards the historic Omayyad mosque for the funeral.
Footage of the event showed Religious Affairs Minister Abdul Sattar al-Sayed, representing the president, among those paying their respects.
Sheikh Afiyuni was a conservative scholar who preached against Sunni radicalism. He was considered to be close to Mr Assad and played a key role in reaching a deal in 2016 with rebels who controlled several suburbs of Damascus.
In September of that year, he led prayers to celebrate the Muslim Eid al-Adha holiday in the town of Darayya after the rebels had been evacuated as part of the deal.