Egypt sex attacks fuel 'feminist revolution'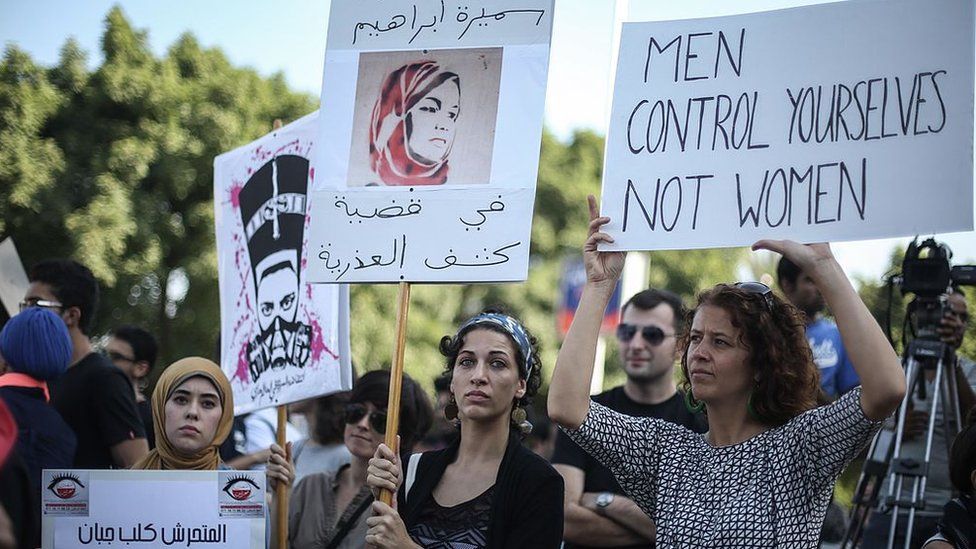 For women and girls in Egypt, sexual assault has long been endemic - but victims are now fighting back like never before, writes Salma El-Wardany.
Every woman I know in Egypt has a story of sexual harassment, assault or rape.
It has become part of everyday life in a country where for women picking an outfit is less about style, and more about protection.
Over the years, a culture of patriarchy, religion and conservatism has meant women often stay silent when sexual abuse happens because victim-blaming is all too common.
Now though, women and girls are finally breaking decades of silence, taking to social media to share their stories of assault, empower one another and call for justice.
Nadeen Ashraf, a 22-year-old fellow student, set up the Instagram account Assault Police to share these allegations and received an outpouring of messages from women claiming that Ahmed Bassam Zaki had blackmailed, assaulted, harassed and raped them.
Within days he was arrested and is on trial charged with "sexually assaulting three girls under the age of 18 and threatening them, along with blackmailing a fourth girl". He denies the charges.
The account now has 200,000 followers.
Nadeen was overwhelmed with the reaction and speed of progress. She said "within weeks there was a new law that was introduced in parliament to protect women's identities when they're in crimes of a sexual nature".
Still, Sabah has been instrumental in helping women coming forward, putting them in touch with lawyers and therapists, and is now seeing her efforts rewarded.
Earlier this year the highest religious authority in the land, Al-Azhar Mosque, released a statement in support of women, declaring that a woman's clothing is never a justification for assault.
"And during the first Friday prayers after the [Assault Police] movement, most mosques were asked to speak about being anti-sexual harassment," Sabah says.
It sparked a much-needed conversation around victim-blaming and religion.
Household names, celebrities and influencers all came out in support of the cause and men joined the debate.
Acclaimed Egyptian adventurer Omar Samra was among those who spoke out on social media.
"I got so angry and frustrated with what was going on, it had reached a ludicrous level, I don't think it will ever be made right until men take accountability for their actions and put others on the spot."
However, under the surface concerns remain.
Women's rights defenders in the country have been pushing for a better legal system for sexual crimes for years, with very little success.
There are few prosecutions for rape, and sexual harassment was only made illegal in 2014 thanks to lobbying from feminists like prominent women's rights campaigner Mozn Hassan.
Rothna Begum, women's rights researcher at Human Rights Watch, says that although the government seems to be on the side of women, there is pushback against women in the public sphere, including online.
"The authorities have gone out of their way to arrest women who are social media influencers posting on TikTok... calling them out for inciting debauchery."
The incident involved nine men from powerful families in Egyptian society who allegedly raped a young woman, filmed the assault then circulated the video among friends.
While the Public Prosecution ordered the arrests of the accused men, they also arrested witnesses and people associated with the case, subjecting them to medical examinations and seizing their phones and laptops to extract personal information.
According to Rothna Begum, the government is "leaving women with the message that if you come forward to report rape or to act as a witness, you could find yourself at risk of arrest".
The stakes are high for women in Egypt, which only makes this current movement all the more remarkable.
Despite a legal system that does not fully protect them, the shaming they may receive from families and the fact that so-called "honour killings" still happen, the women and girls of Egypt are speaking out more than ever.
Egyptian American feminist Mona Eltahawy says she is "tenaciously optimistic… that a feminist revolution is beginning", despite evidence that authorities are trying to silence and oppress women across the country by arresting witnesses and TikTok girls.
"I look now at these young women and girls and queer people torpedoing through shame, and I am thrilled," she says.
Salma El-Wardany is an Egyptian-Irish writer, poet and presenter.