Irish rugby's historic win over New Zealand trickles down
By Ciaran Dunbar
BBC News NI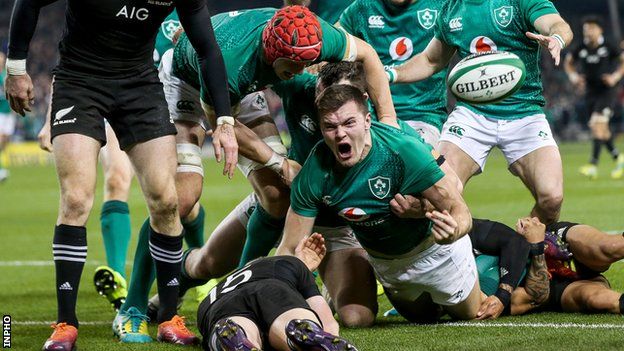 Ireland's rugby players compete at the pinnacle of their sport, proving that they can beat the best in the world, and the team's achievement in defeating New Zealand has inspired those at the grassroots.
Liam Foley is mini rugby convenor at Bangor Rugby Club in north County Down.
The historic win in Dublin was a massive result for Ireland going into next year's World Cup, turning hopes into expectations, he said.
Speaking just 24 hours after the game he said it had already had a "direct" affect on the young players at his club.
"If we look at last year, when we had the Women's World Cup, which was held in Ulster, straight away, that very season, we had a ten-fold increase in the number of girls who came down and participated."
Children are getting to see a lot more rugby on television and with Ireland's success they are able to relate to it, he explained.
"It makes it seem very real, especially when so many of them know that Craig Gilroy, another Ulster player, played for Bangor minis. It gives them a real hope that they can go there themselves," he said.
P7 coach Steven Nicholl agreed, saying seeing Bangor players on the big screen shows the children what can be achieved, though he stressed that mini rugby is about having fun.
Jeff Thompson is P6 coach, he said the kids take great inspiration from the game and have been left "buzzing" by the win.
"They can look at some of the Ulster players... and they will treat them like heroes to some degree," he said.
He said the "fantastic" result can only be a good thing for Irish rugby.
One of the children attending the mini rugby, Alfie Collins, confidently aspired to take over from Rory Best as Ireland captain except "with a lot more hair".
He said he "definitely" recommends his club and the training it provides and made clear that rugby does not hurt "if you get the tackles in perfectly".
Bangor's P7 players watched the game to a man and everyone seemed confident that they could be the next Jacob Stockdale - they even had a go at re-enacting the now famous try.
P7 player, and accomplished media performer Harley praised the whole team's performance: "It was really good, all the tackling, all the scrums, the defending was all fantastic."
He said playing for Ulster and Ireland would be "a dream come true".
The Bangor minis do not lack confidence. One player, a veteran "since P1", said: "If they can do it, we can do it".