Jamal Khashoggi: Turkey to search Saudi consulate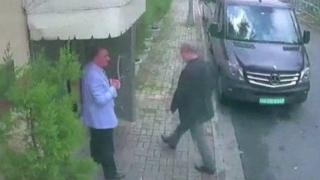 Turkey says it will conduct a search of Saudi Arabia's consulate in Istanbul over the missing Saudi journalist Jamal Khashoggi.
The country's foreign ministry said Saudi Arabia was "open to co-operation" and a requested search of the building could now go ahead as part of the investigation.
Mr Khashoggi was last seen visiting the consulate last week and Turkey says he may have been murdered there.
Saudi Arabia denies the suggestion.
It says the journalist left the consulate shortly after arriving, while Turkey says he was not seen leaving the building.
The country has demanded Saudi Arabia prove he left - despite not giving evidence of the claim he was killed inside.
A critic of Crown Prince Mohammed bin Salman, Mr Khashoggi was living in self-imposed exile in the US and writing opinion pieces for the Washington Post before his disappearance.
BBC Newshour interviewed the journalist just three days before his visit to the consulate, and in an off-air conversation asked if he would ever return to his home country.
"I don't think I'll be able to go home," he told the BBC, saying that in Saudi Arabia "the people who are arrested are not even dissidents" and saying he wished he had a platform at home to write and speak freely at this time of "great transformation" in his country.
The programme has released audio of the conversation, saying that although it would not normally do so, it had decided to make an exception "in light of the circumstances".
What's been the reaction to the disappearance?
US President Donald Trump has said he is concerned about Mr Khashoggi, while US Secretary of State Mike Pompeo called on Saudi Arabia to "support a thorough investigation" of his disappearance and "to be transparent about the results".
UN experts have also demanded a "prompt independent and international investigation" into his disappearance.
UK foreign secretary Jeremy Hunt meanwhile tweeted that he had spoken to the Saudi ambassador and that the UK "will treat the incident seriously" if reports are accurate.
Last week, Crown Prince Mohammed told Bloomberg News that his government was "very keen to know what happened to him", and that Mr Khashoggi had left "after a few minutes or one hour".
---
An unacceptable line?
Analysis by BBC diplomatic correspondent James Robbins
Britain has apparently told the Saudis they need to show Mr Khashoggi is alive, and the best way to do that would be for him to appear on television.
If that doesn't happen soon, it's clear that Britain and its allies are likely to conclude that Saudi Arabia has crossed an unacceptable line.
In the wake of the Salisbury attack, and the international punishment meted out to Russia, it would then be increasingly difficult for Western governments to avoid action against the Saudi kingdom, however close their military and economic ties.
---
Crown Prince Mohammed's brother and the Saudi ambassador to the US, Khaled, has insisted all the reports about his disappearance or death "are completely false and baseless".
"Jamal has many friends in Saudi Arabia, and I am one of them," he said in a statement, saying the two had kept in touch while he was living abroad "despite differences".
When was he last seen?
Jamal Khashoggi went to the consulate last Tuesday to obtain a document certifying he had divorced his ex-wife, so that he could remarry his Turkish fiancée, Hatice Cengiz.
She said Mr Khashoggi had been required to surrender his mobile phone, which is standard practice in some diplomatic missions.
He told her to call an adviser to Turkish President Recep Tayyip Erdogan if he did not return. She eventually called the police.
What have both countries said?
Turkish officials say Mr Khashoggi was killed on the premises and his body was then removed.
"We believe that the murder was premeditated and the body was subsequently moved out of the consulate," an unnamed source told Reuters.
A source quoted by The Washington Post said the journalist was killed by a 15-member Saudi team sent "specifically for the murder".
The head of the Turkish-Arab Media Association, Turan Kislakci, told the New York Times that Turkish police officers providing security for the consulate had checked their security cameras, which did not show the journalist leaving on foot.
Turkey reportedly says it is scouring road cameras for a black van believed to have carried Mr Khashoggi's body from the consulate, while the Washington Post released CCTV footage of the journalist entering the building on Monday.
Saudi Arabia says the allegations are baseless. It has allowed journalists into the consulate to show Mr Khashoggi is not there, reportedly even opening cupboards.
Who is Jamal Khashoggi?
A high-profile critic of the crown prince, the 59 year old has more than 1.6 million Twitter followers and has written for the Washington Post opinion section.
A former editor of the al-Watan newspaper and a short-lived Saudi TV news channel, Mr Khashoggi was for years seen as close to the Saudi royal family. He served as an adviser to senior Saudi officials.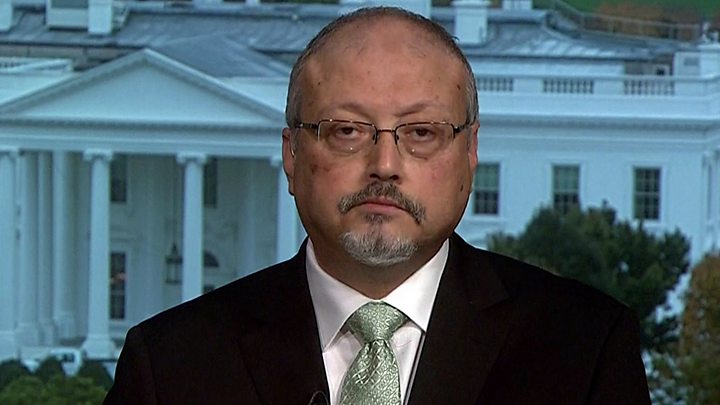 But after several of his friends were arrested, his column was cancelled by the al-Hayat newspaper and he was allegedly warned to stop tweeting, Mr Khashoggi left Saudi Arabia for the US.
There he wrote opinion pieces for the Washington Post and continued to appear on Arab and Western TV channels.