Gaza rocket barrage triggers Israeli air strikes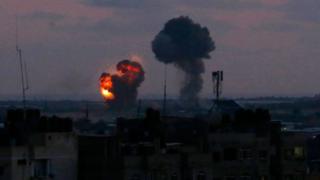 Israeli jets have struck Palestinian militant positions in the Gaza Strip after rockets and mortars were fired into Israel, the Israeli military says.
Twenty-five targets linked to the Hamas movement were hit overnight in response to a barrage of about 45 projectiles.
Two Hamas security personnel are reported to have been lightly injured.
The escalation came hours after Israel bombed three sites in retaliation for the launching of incendiary kites and balloons over the Gaza border.
Israeli officials say the crude devices have sparked more than 450 fires in recent weeks, burning 2,800 hectares of land and causing $2m (£1.5m) of damage.
Palestinians began launching kites and balloons carrying containers of burning fuel and explosive devices during mass protests at which Gaza health officials say more than 120 Palestinians have been killed by Israeli forces since 30 March.
The demonstrations have seen thousands of Palestinians gather on the border in support of the declared right of Palestinian refugees to return to their ancestral homes in what is now Israel.
Human rights groups have accused Israeli troops of using excessive force during the protests. Israel has said they have only opened fire in self-defence or on people trying to infiltrate its territory under the cover of the protests.
Early on Wednesday morning, the Israeli military announced that its warplanes had struck three military targets in a Hamas compound in southern Gaza in response to the incendiary kite and balloon attacks.
The military said Hamas, which dominates Gaza, was responsible for all events in the coastal territory and would "bear the consequences".
Not long afterwards, sirens were sounded across southern Israel and the Israeli military said it had detected rocket and mortar fire emanating from Gaza.
Israeli jets subsequently struck another eight targets in three Hamas military compounds as well as a cement factory, according to the military.
Following further rocket launches, Israeli warplanes carried out a third round of strikes, this time hitting 11 targets in four military compounds.
Israeli officials say six rockets fired from Gaza landed inside populated areas, causing damage to buildings and vehicles but no casualties. One rocket exploded just outside a kindergarten.
At least three people were injured in Israeli strikes on southern Gaza, two in the town of Rafah and one in neighbouring Khan Younis, according to the Palestinian news agency Wafa. Residents told Reuters news agency that two were Hamas security men.
"The sounds and explosions reminded us of the nights of summer of 2014," one Gaza resident told the Israeli newspaper Haaretz, referring to the last major conflict between Israel and Palestinian militants in Gaza.
The Israeli military warned Hamas that it was "dragging the Gaza Strip and its civilians down a deteriorating path".
Hamas spokesman Fawzi Barhoum praised the rocket attacks on Israel, insisting it was "a legitimate right that bombing is met with bombing", but he did not say who was behind them.