Syria returns Légion d'honneur award to France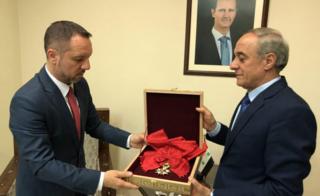 Syria has returned to France the prestigious Légion d'honneur presented to President Bashar al-Assad, saying he would not wear the award of a country that was a "slave" to America.
The move comes days after France said a "disciplinary procedure" for withdrawing the award was under way.
France recently joined the US and Britain in bombing Syrian targets over an alleged chemical weapons attack.
The award was returned to France via the Romanian embassy in Damascus.
President Assad was decorated with the highest class of the award, the grand-croix, in 2001 after he took power following the death of his father.
"The ministry of foreign affairs... has returned to the French republic... the decoration of the grand-croix of the Légion d'honneur awarded to President Assad," the Syrian foreign ministry said in a statement.
"It is no honour for President Assad to wear a decoration attributed by a slave country and follower of the United States that supports terrorists," it added.
About 3,000 people every year are awarded the Légion d'honneur for "services rendered to France" or for defending human rights, press freedom or similar causes.
The US, UK and France bombed several Syrian government sites on Saturday in retaliation for an alleged chemical weapons attack on Douma, the last rebel-held town in the Eastern Ghouta region outside Damascus.
More than 40 people were killed in the 7 April attack, according to opposition activists, rescue workers and medics.
The Syrian government denies using chemical weapons and says the attack was fabricated.
The Légion d'honneur's controversial recipients
Bashar al-Assad was awarded France's highest honour after he had taken over from his late father, at a time when it was hoped he would bring political change in Syria.
Other recipients include former dictators Benito Mussolini, Francisco Franco and Col Muammar Gaddafi.
More recently, Tunisia's ousted former President Zine El Abidine Ben Ali was awarded it in 1989 while it was given to Russian President Vladimir Putin in 2006.
Observers say awarding such honours to foreign dignitaries, who see it as a prestigious honour to receive, can be used as an instrument of influence with foreign powers.
So far, only one foreign leader has been stripped of the honour, former Panamian President Manuel Norriega. Since then, it has become easier to strip a foreign dignitary of the title.
Under President Emmanuel Macron, Hollywood mogul Harvey Weinstein has also seen the decoration withdrawn after a series of accusations of sexual harassment and rape.