Israeli soldiers killed in West Bank car attack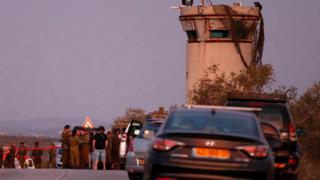 A Palestinian man has driven his car into a group of Israeli troops in the north of the occupied West Bank, killing an officer and a soldier, the Israeli military says.
The incident happened near the Jewish settlement of Mevo Dotan, west of the Palestinian town of Jenin.
Two other soldiers were injured in the incident.
The suspect fled from the scene but was later detained. Reports said he was lightly injured.
The Israeli military said the soldiers had been securing routes near the settlement of Mevo Dotan.
The settlements are considered illegal under international law, though Israel disputes this.
Israel's security service identified the suspect as Alaa Kabha from a village near Jenin. It said he had previously been imprisoned for security offences and was released a year ago.
The Israeli military said it was responding by suspending all permits for the suspect's family, including those giving employment and trade access to Israel and to Jewish West Bank settlements.
Defence Minister Avigdor Lieberman said on Twitter that he would seek the death penalty for the suspect and the demolition of his home.
The Palestinian Islamist group Hamas hailed the car-ramming incident but did not say it was behind it.
The incident happened amid high tension on Friday after Hamas called for protests to mark 100 days since US President Donald Trump recognised Jerusalem as Israel's capital.
There were clashes between Israeli forces and Palestinian protesters in several cities in the West Bank.
The US decision to recognise Jerusalem as Israel's capital has been welcomed by Israeli Prime Minister Benjamin Netanyahu but has infuriated Palestinians.
The declaration broke with decades of US neutrality on the issue and put it out of step with the rest of the international community.
Last month the US said it would open its new embassy in the city in May.
More than 30 Palestinians and four Israelis have been killed in violence since Mr Trump's declaration, AFP reported.