Syria war: Thousands flee offensives in Afrin and Ghouta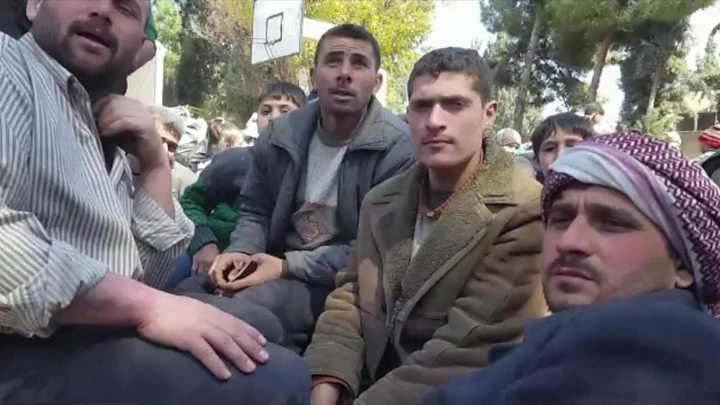 More than 60,000 people have fled two separate offensives in Syria in recent days, the UN says.
Up to 16,000 people have fled Eastern Ghouta, near Damascus, where Russian air strikes are supporting Syrian government attempts to retake the area.
Nearly 50,000 fled the northern town of Afrin, where Turkey is fighting a US-backed Kurdish militia that it considers a terrorist group.
Dozens of people were killed in air strikes on Friday, activists said.
Seven years of civil war have driven nearly 12 million Syrians from their homes:
At least 6.1 million are internally displaced
Another 5.6 million have fled abroad
More than 400,000 are believed to have been killed or are missing, presumed dead
On Friday, the Syrian ambassador to the United Nations said the estimates of those who fled the rebel-held enclave of Eastern Ghouta could be more than twice as high as reported, with up to 40,000 leaving on Thursday alone. The number could not be verified.
The Eastern Ghouta Front: Syrian government v rebels
Russian air strikes killed 80 people including 14 children on Friday in the Eastern Ghouta towns of Kafr Batna, Saqba and Harasta, according to the Syrian Observatory for Human Rights, a UK-based monitoring group.
Despite international calls for a ceasefire, there has been no let-up in the offensive and the Syrian army is now pushing into densely populated areas, backed by Russian air support.
Residents have told BBC News there has been intense street fighting between rebels and government soldiers in some parts of the enclave.
Humanitarian corridors controlled by the Syrian government reportedly allowed about 4,000 more people to leave the enclave on Friday despite the fighting.
The UN children's agency Unicef is sending representatives to assess the needs of evacuees in temporary shelters in Damascus.
A Unicef spokeswoman said its current response plan could deal with up to 50,000 people.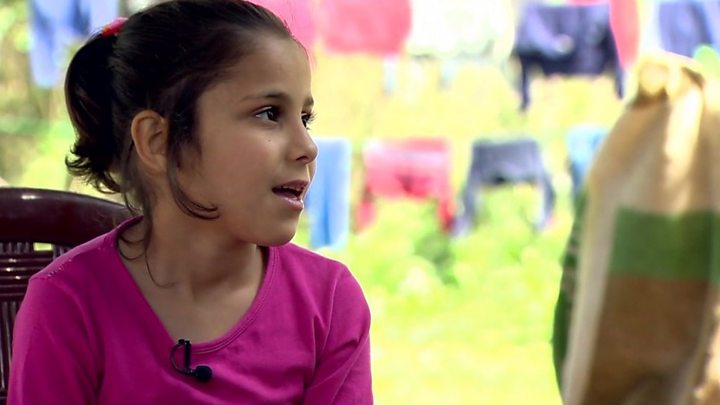 Pro-government forces are believed to have recaptured 70% of the region after three weeks of intense fighting against rebels there.
The crushing of the rebel enclave outside Damascus would be a major victory for President Assad.
The Afrin Front: Turkey v the Kurdish YPG
Afrin, a town populated mainly by ethnic Kurds near the Turkish border, has been under bombardment from the air and the ground by Turkish forces and their local Syrian allies.
Turkish bombing reportedly killed at least 43 people on Friday, including seven children and at least 16 people who died in an air strike on the town's main hospital, the Syrian Observatory said.
"It was the only functioning hospital in Afrin city," a Kurdish Red Crescent official told the AFP news agency.
An estimated 48,000 people have fled the city and nearby villages, according to Linda Tom, a UN humanitarian spokeswoman in Syria. They headed towards villages held by Syrian government forces.
Turkey is targeting the Kurdish People's Protection Units (YPG), a militia that it regards as an extension of the Kurdish forces on its own territory - a banned group that Turkey considers a terrorist organisation.
But Kurdish fighters in Syria have been a key ally in the fight against the Islamic State group, and have received support from the United States to that end.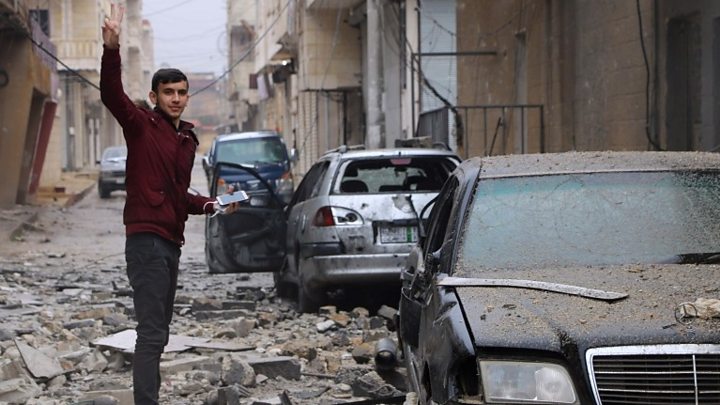 Brusk Hasakeh, a YPG spokesman, told Reuters news agency that Turkish forces and their Syrian militia allies were trying to storm Afrin from the north but the YPG and its women's affiliate, the YPJ, were fighting back.
Turkish President Recep Tayyip Erdogan told a gathering in Ankara that his country would not stop until its mission to capture Afrin had been completed.
What are the latest diplomatic efforts?
While Turkey is opposed to President Assad, Russia and Iran are the Syrian leader's closest allies.
Russian Foreign Minister Sergei Lavrov sought to portray the talks in Kazakhstan as an opportunity to bring lasting peace to Syria, saying "millions of Syrians are looking in the direction of Astana".
Referring to the Eastern Ghouta, Turkish Foreign Minister Mevlut Cavusoglu said the bombing of civilians was unacceptable.