Reality Check: How many attacks did Turkey face from Afrin?
By Irem Koker
BBC Turkish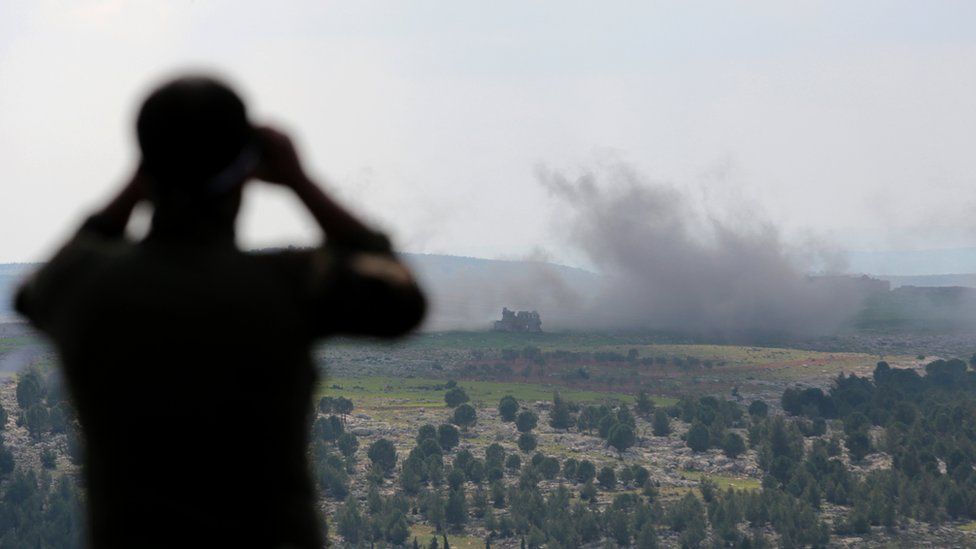 The claim: Soon after the Turkish military launched an offensive into the Afrin region of northern Syria, the Turkish presidential spokesman Ibrahim Kalin wrote: "Over the last year alone, more than 700 attacks have been launched from the Afrin area under PYD/YPG [the Kurdish Democratic Union Party and its armed wing, the People's Protection Units] control against Turkish cities."
Reality Check verdict: The number of incidents publicly reported in that area and period, checked against multiple sources, appears to be far lower than 700 - Reality Check could find only 26. The Turkish Ministry of Foreign Affairs (MFA) told Reality Check there had been 700 incidents of "harassment fire", which it defines as "anything that does not directly target Turkey, but is felt as a side-effect of an ongoing incident or clashes in Syria". The MFA said it also had records of 90 attacks "directly targeting Turkey" in the same area and period.
Turkey launched Operation Olive Branch, a military offensive against Kurdish militia in the northern Syrian province of Afrin, on 20 January.
Turkey said it had conducted the offensive as a part of "its legitimate right of self-defence as defined by the UN Charter". And its claim of 700 attacks, made by some of the country's highest-ranking officials, has been used to bolster that argument.
The figure of 700 was also mentioned by Turkey's deputy prime minister at a press conference a day after the operation began.
Reality Check extensively researched public reports of attacks on Turkey in the time period mentioned, using several different sources.
It could find reports of only 26 attacks from Syria between 1 January 2017 and 20 January 2018 - and only 15 of these came from Afrin.
The Turkish army releases detailed reports of border incidents - ranging from ones in which a soldier is killed to other less serious incidents such as five shots fired by a machine gun landing in an empty field.
In past campaigns, these reports have been a fairly reliable indicator of what has happened on the ground.
For example, in 2016, when the Turkish army launched an offensive against the Islamic State group in northern Syria, the number the government gave for IS attacks against Turkey roughly corresponded with the number of incident reports released by the military.
Reality Check also crosschecked the Turkish army reports with several other sources, including the state-run Anatolia news agency, the private Dogan news agency, and liveuamap.com - a website that gathers social media posts from conflict zones.
A Turkish military source told the BBC to refer to the Turkish Ministry of Foreign Affairs (MFA) for full records of the 700 incidents, adding "not all but most" had been made public.
The MFA did not release the records.
But when contacted again, it told Reality Check there had been 700 incidents of "harassment fire."
It defined this as "anything that does not directly target Turkey, but is felt as a side-effect of an ongoing incident or clashes in Syria".
It also said some of the 700 incidents had been at Turkish military posts in northern Syria, including Idlib and areas controlled by the Turkish-backed Free Syrian Army (FSA) - contradicting the official statements the attacks were "against Turkish cities".
The MFA said it defined "attacks" as incidents that "directly target Turkey" and that it had records of 90 "attacks" in the same area and period.
When asked about the contradictions, the MFA said it could understand why there was confusion and did not elaborate further.
And it later sent a booklet of news articles to demonstrate "terror threats from Syria to Turkey".
However, these described only three minor incidents Reality Check had not already recorded, which have been included in the final tally.
Some of the incidents Reality Check found reports of were:
In the first incident of 2017, one soldier had been killed by a sniper operating out of Afrin, the army said in a statement on 22 March
There was a spike in the number of attacks targeting Turkey in late April - "13 armed attacks targeting 11 border posts", according to the Turkish army. The army says these attacks came from Kurdish militia controlled areas in northern Syria following the Turkish army's air strikes in the region. Nine of these attacks came from Afrin
In January this year, Anatolia news agency reported that since September 2015 two soldiers had been killed in 12 attacks from Afrin targeting military posts on the Syrian border
Why is Turkey involved in Afrin?
The Afrin region is controlled by the People's Protection Units (YPG), the armed wing of the Kurdish Democratic Union Party (PYD).
Turkey sees the YPG as an extension of the banned Kurdistan Workers' Party (PKK), which has been fighting for Kurdish autonomy in Turkey for more than three decades.
The PKK is listed as a terrorist organisation by Turkey, the EU and US.
The YPG denies any direct military or political links with the PKK.