Syria war: 'Chlorine attack' on rebel-held Idlib town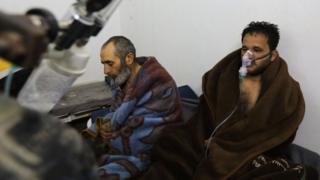 Nine people were treated for breathing difficulties after a bomb believed to be filled with chlorine was dropped on a rebel-held town in Syria, medics say.
The Syria Civil Defence said three of its rescue workers were among the casualties from the attack on Saraqeb, in the north-western province of Idlib.
The Syrian opposition said the bomb was dropped by a government helicopter.
At least 20 people were reportedly killed in conventional government and Russian air raids elsewhere in Idlib.
Later, government air and artillery strikes on the rebel-held Eastern Ghouta region outside Damascus left another 24 people dead, the Syria Civil Defence reported.
Nine civilians, including two children, died in 15 strikes on the town of Arbin, while seven were killed when a market in the town of Beit Sawa was hit, it added.
Syrian police sources meanwhile said rebel mortar fire from the enclave killed a woman in the government-controlled Bab Touma district of Damascus' Old City.
Government and Russian forces stepped up their attacks on rebel-held areas after al-Qaeda-linked jihadists said they had shot down a Russian Su-25 warplane over Idlib on Saturday and killed its pilot on the ground after he ejected.
A doctor working for the Union of Medical Care and Relief Organizations (UOSSM), a charity which supports hospitals in rebel-held Syria, told the BBC that Saraqeb was struck by a barrel bomb dropped by a helicopter that had taken off from a nearby government base.
People brought to local hospitals after the attack smelt of chlorine, he said, and suffered breathing problems and irritation in their eyes.
The Syria Civil Defence said it had responded to "an attack with chlorine gas" and that nine people were affected, including three of its rescue workers, commonly known as the White Helmets.
It also posted a video online showing several men stripped to their underwear being sprayed with water as they struggle to breathe.
The Syrian Civil Defence also reported that six civilians had been killed and 10 others injured in conventional air strikes on residential areas of the town of Kafranbel on Sunday night.
It added that the National Hospital in Maarat al-Numan was taken out of action by three air strikes, forcing medics and first responders to evacuate premature babies without any incubators.
A statement from the opposition Syrian Coalition strongly condemned what it called a "barbaric onslaught by the Russian occupation and the Assad regime forces targeting mainly civilians and residential neighbourhoods" in Idlib.
It called on the UN Security Council to take immediate action and pass a resolution "condemning Russia's atrocious crimes against the Syrian people".
Chlorine has many civilian uses, but its use as a weapon is banned by the Chemical Weapons Convention (CWC). If high concentrations of the chemical enter the lungs it can cause death.
There was no immediate comment on Sunday's attacks from Syria's government.
But it dismissed as "lies" accusations from activists and the United States that it had used chlorine in an attack on the rebel-held Eastern Ghouta area outside Damascus a week ago.
A joint investigation by experts from the United Nations and the Organisations for the Prohibition of Chemical Weapons concluded two years ago that government forces had used chlorine as a weapon at least three times between 2014 and 2015.
The experts are also confident that government forces used the nerve agent Sarin in an attack on the rebel-held town of Khan Sheikhoun last April, killing more than 80 people.
In 2013, the Syrian government declared that it would destroy its chemical weapons arsenal after hundreds of people died in a Sarin attack in Damascus.
Western powers accused Syria of carrying out that attack, which the government denied, blaming rebel fighters instead.