Yemen's civilians pay price of Saudi-led blockade
By Alma Hassoun & Sumaya Bakhsh
BBC Arabic & BBC Monitoring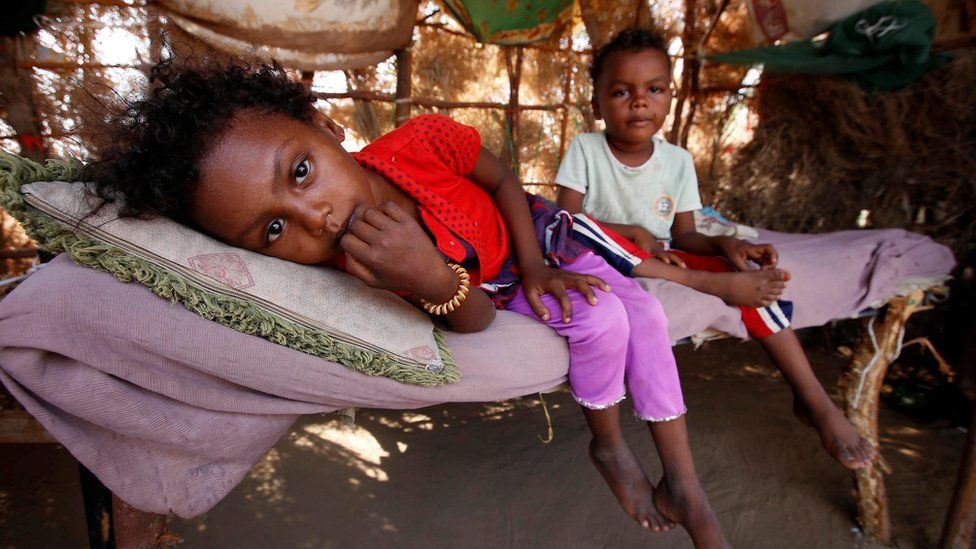 A Saudi-led coalition backing Yemen's government has said it will not allow rebel-controlled air and sea ports to reopen until a better system is put in place to prevent alleged weapons smuggling.
The coalition tightened its two-year blockade of the war-torn country more than a week ago, after a ballistic missile was fired at Riyadh by rebel forces.
The restrictions have seen civilians pay an even heavier price for the fighting, which has killed 8,600 people since 2015 and triggered a humanitarian catastrophe.
Yemeni journalist Mohammed Mazahem had finished eight months of gruelling cancer treatment in Cairo and was preparing to return to his wife Nawal and their five children in the central province of Ibb when the coalition announced the closure of Yemen's land, sea and air borders.
He said he was now stranded in the Egyptian capital "in a desperate situation".
Nawal, an English teacher, told BBC Arabic that she was concerned about how long her husband would be stranded, especially as he was still in poor health as a result of the treatment.
She and one of their daughters had already sold their most precious belongings - gifts they had received in their dowries - in order to send extra funds to Mohammed, she said.
The coalition said its decision to close Yemen's ports was "to stop the flow of arms from Iran", which it accused of supplying the parts for the missile fired at Riyadh. Iran has denied arming the rebel Houthi movement and said the missile launch was "an independent action" in response to coalition "aggression".
Nawal described the situation as a "siege on people's livelihoods".
Many government employees not having received their salaries since last year, and the supplies teachers used to receive from abroad have stopped arriving because of the blockade.
With food prices having skyrocketed, sometimes the family goes without dinner.
"The suffering has been going on for a long time, and now it's worse," Nawal said. "This is not the first time that the ports have been closed."
"And every time they close the ports, the situation gets worse and food prices increase to the point where we can't provide for our children."
In the south-western city of Taiz, 26-year-old student Ahmed Ali Ahmed's hopes of recovering from a gunshot injury in the near future have been dashed.
A fighter with pro-government forces backed by the coalition, Ahmed was shot in the back by a sniper in late May during battles with the Houthis and their allies who surround the city.
The bullet left him with a number of injuries including rib fractures and damage to one of his lungs.
A local hospital treated him with the limited facilities available because of the crippling rebel siege, but Ahmed remains in so much pain that he said he had to lie down most of the time.
After months on painkillers and behind with his studies as a Masters student, he was delighted when a friend's relative, who lives abroad, offered to pay for his travel expenses and treatment in India.
Ahmed was planning to travel to Aden, from where he was to take his flight, when he heard about the closures. He now fears that his benefactor will instead choose to help one of the many Yemenis in need of medical treatment who are already abroad.
"I am so disappointed that I haven't left the house. I want to live my life normally," he said. "I can't go to university because of my injury."
After months of cancer treatment in Egypt, all Mohammed Mazahem wants is to return home.
He said civilians were the only people paying the price for the political wrangling.
"Most of the sick are suffering from chronic illnesses and the students have finished their studies. I want serious action to be taken before there is a catastrophe."
Mohammed said he could not see why he should be prevented from returning to Yemen.
"If the coalition's justification is stopping weapons from entering Yemen, then we are in Egypt, which is a member of the coalition. There is no way that planes here would transport weapons to Yemen."
The Yemeni news website Aden al-Ghad last week quoted sources as saying that two patients who were due to travel abroad for medical treatment died at Seiyun airport, in the south-eastern province of Hadramawt, after flights out were grounded.
The BBC was unable to verify the report from an independent source.
The deputy representative of United Nations Children's Fund (Unicef) in Yemen, Sherin Varkey, told the BBC that the impact of the port closures on the country's already dire humanitarian situation could be devastating. He said he had seen long queues all over the city for fuel, with many vendors closed after prices rose by 60%.
With more than 2,000 people believed to have died as a result of a cholera outbreak since April, he says that the ongoing blockade will undo the work done to curtail its spread.
At the peak of the outbreak, 6,000 to 7,000 cases were being treated every day. It had been brought down to around 3,500 before the blockade was tightened.
Unicef also treats 27,000 children a month for severe and acute malnutrition, and with no aid deliveries stocks of nutrition supplies will run out within two months.
Dr Varkey said that would affect the treatment of approximately 400,000 children suffering from the life-threatening condition over the coming year.
"Children will bear the scars of this conflict long into the future. And the effects of this will go beyond the country and will affect the region as well," he warned.
BBC Monitoring reports and analyses news from TV, radio, web and print media around the world. You can follow BBC Monitoring on Twitter and Facebook.