Jalal Talabani: Thousands mourn Iraqi Kurdish leader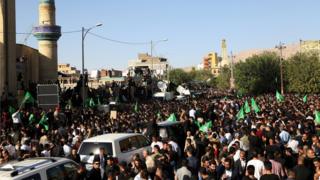 Jalal Talabani, the former Iraqi president and a leading veteran of the struggle for Kurdish rights, is being laid to rest in northern Iraq.
His body was flown to his stronghold, the Kurdish city of Sulaimaniya, three days after he died in Germany.
His coffin was draped with the Kurdish flag, prompting one private Iraqi TV station to cut its coverage in protest.
Thousands of mourners crowded the streets as the coffin was taken from the airport to the city's great mosque.
The death of the 83-year-old comes at a sensitive time in relations between Kurdish leaders and Baghdad.
Last week, people living in northern Iraq voted overwhelmingly in favour of independence for the Kurdistan Region in a referendum, despite outrage in Baghdad, Iran and Turkey.
Talabani had not been well enough to give his views on the referendum, but it had been only half-heartedly backed by his Patriotic Union of Kurdistan party. He had historically opposed full Kurdish independence, arguing for semi-autonomy within a democratic Iraq.
Talabani said that Iraq, with its many different communities, was a "bouquet made up of several flowers".
The flight carrying Talabani's body was given special dispensation to land amid an Iraqi-government-imposed ban on international flights to the Kurdistan Region following the plebiscite.
The coffin was received by a guard of honour and given a 21-gun salute, followed by the Iraqi national anthem, on the tarmac of Sulaimaniya airport.
It was then taken to the city's grand mosque.
Talabani's long-time rival, the President of Iraqi Kurdistan Massoud Barzani, sat between Talabani's widow Hero and Iraqi President Fuad Masum. Despite their long history of chequered relations, Mr Barzani this week described Mr Talabani as a "friend and a brother".
Other senior Baghdad officials also attended but Prime Minister Haider al-Abadi - who had urged Kurds to cancel the referendum and said he would refuse to engage in dialogue about the result - was absent.
Iranian Foreign Minister Javad Zarif was the most senior foreign official there.