Veteran Iraqi Kurdish leader Jalal Talabani dies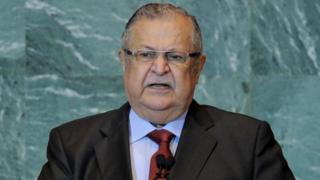 The Kurdish leader and former Iraqi President, Jalal Talabani, has died at the age of 83, Iraqi state TV has said.
Talabani was a veteran of the Kurdish struggle for an independent state and founded the Patriotic Union of Kurdistan (PUK) in 1975.
In 2005, two years after the US-led invasion that ousted Saddam Hussein, he became Iraq's first non-Arab president.
He stepped down in 2014, two years after suffering a stroke that led him to seek medical treatment in Germany.
Although the post of president is largely ceremonial, while in office he helped mediate disputes among the country's many political and religious factions.
Talabani's death was announced on Tuesday amid a major rift between the autonomous Kurdistan Region and the Arab-led central government in Baghdad.
Iraqi Prime Minister Haider al-Abadi has demanded that the Kurdish authorities annul the referendum on independence that was held eight days ago and banned international flights to the region.
The Kurdistan Regional Government insists the vote, in which more than 90% of people backed secession from Iraq, was legitimate and accused Mr Abadi of "collective punishment".