Iran's leader Hassan Rouhani slams Donald Trump in UN speech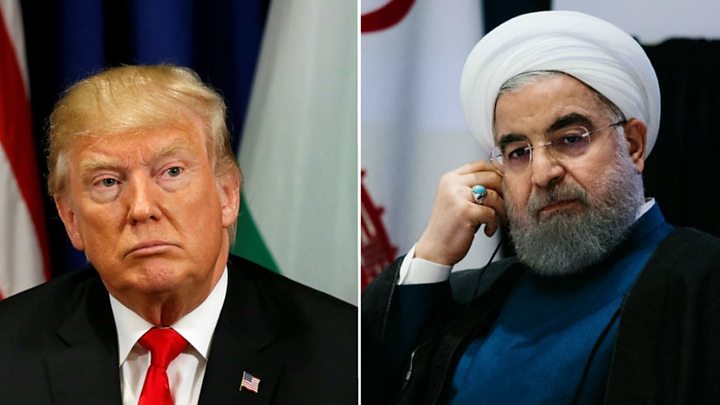 President Hassan Rouhani of Iran has used a speech to the UN General Assembly to hit back at Donald Trump over the US president's criticisms of his country and its 2015 nuclear deal.
In his debut speech to the UN on Tuesday, President Trump included Iran among a "small group of rogue regimes".
He described the nuclear deal as an "embarrassment" to the United States.
Mr Rouhani responded by referring to a "rogue newcomer to international politics".
He denied his country would be the first to violate the agreement but said Iran would "respond decisively and resolutely to its violation by any party".
It would be a "great pity", he added, if the agreement were to be destroyed by Mr Trump.
Why such heat?
Mr Trump has long condemned the nuclear deal concluded under Barack Obama, his predecessor in the White House.
The White House said last month Iran was complying with the deal, but Mr Trump has said the country is violating its spirit.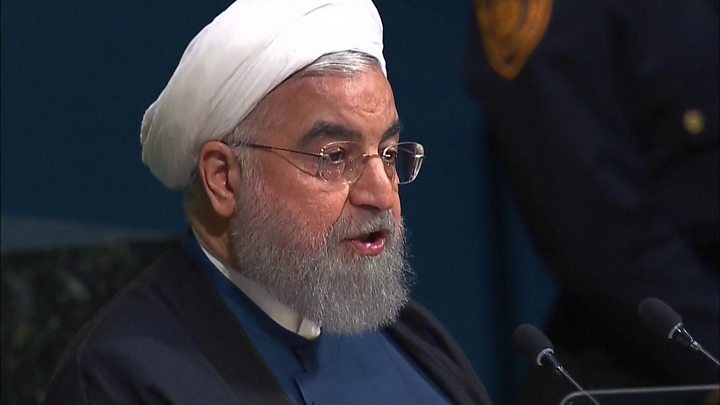 On Tuesday, he also accused Iran's government of being bent on "death and destruction".
Iran, he said, was a "corrupt dictatorship" and an "economically depleted rogue state" that exported violence.
Addressing the assembly at UN headquarters in New York, Mr Rouhani deplored "ignorant, absurd and hateful rhetoric" which was "unfit to be heard at the United Nations".
Will the US abandon the nuclear deal now?
In 2015, Iran reached its landmark nuclear deal with the P5+1 group of world powers - the US, UK, France, China and Russia plus Germany.
Crippling economic sanctions on Iran were lifted after the International Atomic Energy Agency certified Iran had restricted sensitive nuclear activities.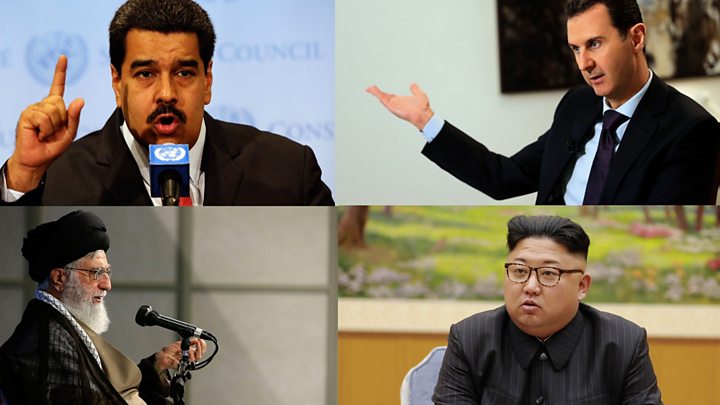 Iran says it has the right to nuclear energy and insists its nuclear programme is for peaceful purposes only.
The White House said at the time the deal would prevent Iran from obtaining a nuclear weapon.
Speaking on Wednesday, the US envoy to the UN, Nikki Haley, said President Trump's remarks were "not a clear signal that he plans to withdraw".
"What it is, is a clear signal that he's not happy with the deal," she told CBS News in an interview.
How is Iran curbing its nuclear programme?
There are two uranium enrichment facilities in Iran - Natanz and Fordo - where uranium hexafluoride gas is fed into centrifuges to separate out the most fissile isotope, U-235.
Low-enriched uranium, which has a 3%-4% concentration of U-235, can be used to produce fuel for nuclear power plants, but it can also be enriched to the 90% needed to produce nuclear weapons.
In July 2015, Iran had almost 20,000 centrifuges. Under the Joint Comprehensive Plan of Action (JCPOA), it will be limited to installing no more than 5,060 of the oldest and least efficient centrifuges at Natanz for 10 years.
Iran's uranium stockpile will also be reduced by 98% to 300kg (660lbs) for 15 years. It must also keep its level of enrichment at 3.67%.