Syria war: Army breaks IS siege of Deir al-Zour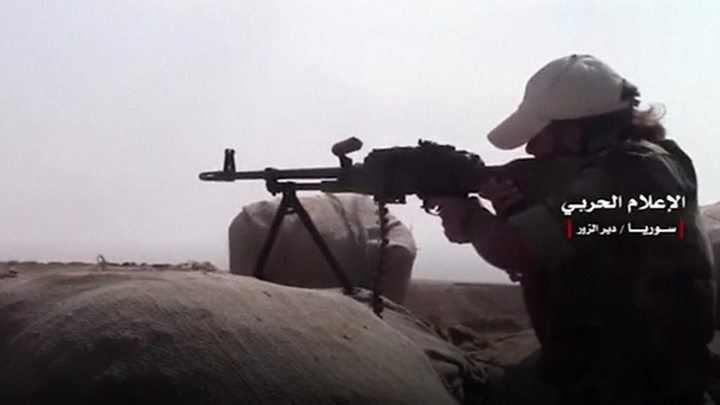 The Syrian military has broken a siege of the eastern city of Deir al-Zour, surrounded for years by so-called Islamic State, state media say.
The official Sana news agency reported that troops and allied militiamen had joined up with forces at the Brigade 137 base on the city's outskirts.
An estimated 93,000 civilians have been trapped in an enclave on the western bank of the River Euphrates since 2015.
They have depended on military relief flights and air drops of aid by the UN.
Deir al-Zour's surrounding province is the last major IS stronghold in Syria.
Raqqa, the de facto capital of the "caliphate" proclaimed by the jihadist group three years ago, is under siege by a US-backed alliance of Kurdish and Arab fighters.
And in neighbouring Iraq, government forces have recently driven IS militants from the cities of Mosul and Tal Afar, leaving them with only two footholds in the country.
A Sana reporter said army units had reached Brigade 137 after advancing from the west and south-west with the support of the Syrian and Russian air forces.
The troops had engaged in fierce clashes with militants surrounding the base, large numbers of whom eventually abandoned their positions and fled without their weapons and ammunition, the reporter added.
Air strikes were also said to have destroyed IS vehicles and fortifications in surrounding villages.
President Bashar al-Assad praised the soldiers who defended Deir al-Zour since 2014 for their "steadfastness in the face of the mightiest terrorist organisations on the face of the earth".
Russian presidential spokesman Dmitry Peskov meanwhile hailed the "strategic victory" in the city, but said IS was continuing to put up fierce resistance.
Earlier, a Russian warship in the Mediterranean Sea fired cruise missiles at IS positions in support of the offensive, the Russian defence ministry said.
The Syrian Observatory for Human Rights, a UK-based monitoring group, confirmed that advancing troops and those defending the city had met.
But it also noted that a separate government-controlled area to the south-east that includes three city districts and military airport was still surrounded by jihadists.
Provincial governor Mohammed Ibrahim Samra told Reuters news agency that troops were now moving towards the airport. "The coming days will also see the clearing of the city of Deir al-Zour," he added.
The UN had warned that conditions inside the enclave were "extremely difficult".
In February 2016, the World Food Programme began carrying out high-altitude air drops there to deliver food aid and stop people dying from malnutrition. Last month, it said 300 missions had delivered almost 6,000 tonnes of aid.