Iran football ticket 'glitch' gave female fans hope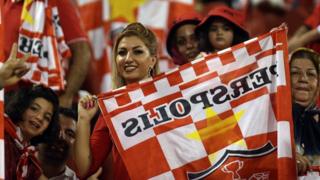 Iranian authorities have blamed a "technical glitch" after female football fans were given hope that they could watch the men's national team.
It seemed the ban on women attending men's football matches had been lifted on Saturday, when an option for women's tickets for a World Cup qualifier against Syria appeared online.
A number of women bought tickets, expressing their surprise and joy.
But Iran's football federation later said the tickets were sold by mistake.
Women are allowed into segregated sections in stadiums to watch men play certain sports, including volleyball, basketball, handball and tennis.
But they are not permitted to watch men's football, swimming or wrestling.
Many women were therefore surprised when they were given an option online to buy tickets for Tuesday's match at Tehran's Azadi stadium.
Some proudly shared their purchases on Twitter.
One woman told the reformist Shahrvand newspaper that she had bought a ticket even though she did not really like football. "I felt that if didn't sign up, I would be missing a major event," Zahra Jafarzadeh said.
However, the football federation later issued a statement blaming a "technical glitch" and stressing that there was "no plan to allow the presence of women in Azadi stadium for the Iran-Syria match".
All tickets purchased by women would be cancelled and refunded, it added.
Ghoncheh Ghavami, a British-Iranian woman who was detained for four months after attempting to watch a men's volleyball match in 2015, urged female fans to keep buying tickets for the match in protest at the stadium ban.
"The empty seats will represent our voice," she wrote on Twitter.