IS suicide bomber dressed as woman kills 14 at Iraq camp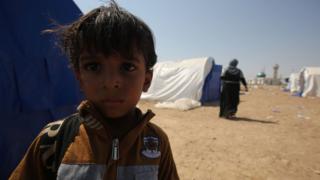 A suicide bomber disguised in women's clothing killed 14 people at a camp for displaced Iraqis on Sunday evening, security and medical sources say.
The bomber struck Kilo 60 camp, near the town of al-Wafa, which is housing civilians from areas of Anbar province held by so-called Islamic State.
Most of the victims were children and women, but two policemen also died.
An IS statement said it had carried out the attack, which it claimed had targeted an Iraqi army position.
Iraqi forces have driven the jihadist group out of much of Anbar, including the cities of Ramadi and Falluja. But it still controls territory near the border with Syria.
The attack on Kilo 60 took place at dusk on Sunday.
Provincial councillor Taha Abdul Ghani told the Associated Press on Monday morning that the bomber approached the site wearing a woman's robe that covered his head and body.
But the disguise raised the suspicions of a police colonel, who walked up the attacker and embraced him before the explosive vest was detonated, in an apparent attempt to shield others from the blast.
The UN Humanitarian Co-ordinator for Iraq, Lise Grande, condemned the attack.
"This is terrible," she said in a statement. "The people who were attacked had fled to Kilo 60 for their safety. Many have travelled huge distances seeking help."
In recent weeks, the number of civilians fleeing IS-controlled areas in western Anbar has increased significantly, according to the UN.
As many as 900 people arrived at the al-Nadhira checkpoint south of al-Qaim between 25 and 28 June, while Kilo 60 was almost at full capacity.
"We know that fighting is likely to intensify in these areas in the weeks ahead and we worry deeply that civilians will be at extreme risk," Ms Grande said.
The head of the local council in al-Wafa said Kilo 60 would now be closed.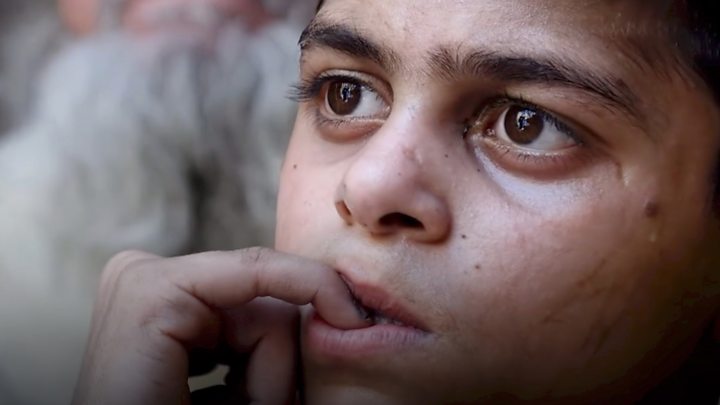 "All the displaced people in the camp will be brought to the Kilo 18 camp, west of Ramadi," Adnan Fayhan told AFP news agency, explaining that it was "safer and receives more aid".
There are more than 3.3 million internally displaced people in Iraq, 30% of whom originate from Anbar, according to the International Organisation for Migration.
As of March, 355,000 displaced people were living at camps or with relatives in the province, while some 494,000 others had returned to their homes.
Also on Monday, an Iraqi soldier was reportedly killed when two women suicide bombers blew themselves up inside the Old City of Mosul.
The district is the only part of the former IS urban stronghold that has not been recaptured since pro-government forces launched a major offensive last October.