Egypt police killed in attack on desert checkpoint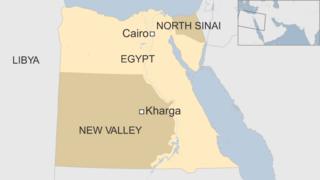 At least eight policemen have been killed in an attack on a security checkpoint in Egypt's Western Desert.
The interior ministry said two of the assailants were also killed when forces at the Naqb checkpoint, about 80km (50 miles) from Kharga city, fought back.
It was not clear who was responsible, but the ministry blamed "terrorists".
Jihadist militants have killed hundreds of soldiers and police officers since the military's overthrow of Islamist President Mohamed Morsi in 2013.
Most of the attacks have taken place in the northern Sinai peninsula, where troops are battling a local affiliate of so-called Islamic State.
Last week, IS said members of the group were behind an assault on a police checkpoint west of the city of Arish that left another eight officers dead.
IS militants are also active in Libya, which borders the Western Desert.