Mosul battle: Human rights group challenges Kurds over screening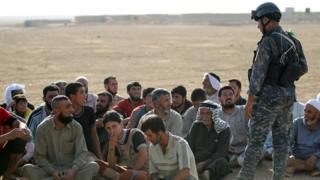 A leading human rights group has challenged the Kurdish authorities in northern Iraq over their screening process for men and adolescents fleeing so-called Islamic State (IS).
All civilians seeking refuge in Kurdish areas are screened for IS links but males aged 15 and over are held separately for long periods of time.
Human Rights Watch says this violates "basic due process" under Iraqi law.
Kurdish and Iraqi government forces are advancing on IS's stronghold of Mosul.
The city was overrun by the jihadists in the summer of 2014.
Kurdish officials said hasty checks could have "catastrophic consequences".
A major concern for Kurdish and Iraqi authorities is the possibility of IS sleeper cells infiltrating local communities.
Last Friday, IS militants attacked Kurdish government buildings in the city of Kirkuk, east of Mosul, killing at least 46 people. On Sunday IS militants launched an attack on Rutba in Anbar province, killing at least seven policemen.
'International standards'
Lama Fakih, deputy Middle East director for Human Rights Watch (HRW), said: "No-one should be detained unless there is reason to suspect them personally of criminal activity."
The only legal basis for detaining a person in Iraq was if the individual was suspected of having committed a crime, HRW argued.
Kurdish officials responded in a detailed letter, saying detention and screening were important for security.
A deputy minister, Dr Dindar Zebari, said that "if even one individual who proves to be an IS member" was let enter Kurdish territory "due to a hurried screening process", there could be "catastrophic consequences" for the region's security situation.
But he also insisted that the security forces made "serious efforts" to observe "international standards of human rights in the security screening process".
Dr Zebari attributed delays in processing or detention to the large number of people fleeing IS-controlled areas and the lack of available security personnel to carry out security checks.
'Hours or months'
In its report, HRW said civilians were transported to Debaga displacement camp after initial screening checks before men and boys were sent to an adjacent site.
Detainees were able to communicate with their families through the fences at the facility and had access to basic aid.
While men and boys were sometimes held for hours, others had been held for days, weeks or months without charge or evidence of any involvement with IS, according to HRW.
One young man, a former engineering student at Mosul University, fled the city in early October after missing two years of studies.
As he travelled to Kirkuk he was stopped at a checkpoint by Kurdish Peshmerga fighters who assured him he would be allowed to leave within two days.
But when HRW interviewed him, he said he had been in the detention facility for 18 days.
Other camp residents said men and boys suspected of affiliation with IS had disappeared from the camp. Their families were not informed where they were taken, HRW said.
A woman at the camp was quoted as saying that her 30-year-old son, who she said had no links to IS, had disappeared from the detention facility after being held for 18 days.
She was afraid to ask the security services where they had taken him, HRW said.