UK and Australian citizen Scott Richards held in Dubai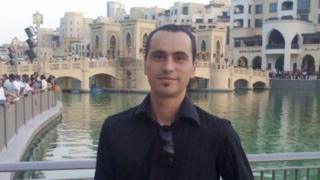 A 42-year-old man arrested in Dubai for sharing a charity post on his Facebook page has been charged.
Scott Richards, who holds both British and Australian citizenship, promoted a charity drive to buy blankets and tarpaulins for refugees in Afghanistan.
He was held for 22 days then charged with fundraising without permission.
Strict new laws prohibit the operation of any charity not registered in the United Arab Emirates. The UK Foreign Office said it was "providing support".
Laws created last year prohibit donations or advertising fundraising campaigns without prior written approval from the Islamic Affairs and Charitable Activities Department in Dubai.
Penalties for violating the law include prison terms between two months and one year and a fine of up to 100,000 dirhams (£20,000, $27,000).
Extreme stress
Mr Richards, who grew up in the Australian city of Adelaide, has been living in Dubai with his wife and two sons while working as an economic development adviser.
His mother, Penelope Haberfield, said he had only been able to change his clothes once every seven days while detained and had to pay for water.
"His wife is under extreme stress," Mrs Haberfield told the BBC.
"She can only take the clothes to him once a week. She takes him money so that he can buy water and extra food.
"She's worried for him, she's worried for herself because if she runs out of money, will she have to leave the country? She's frightened for her children."
Blankets for children
Police confirmed that Mr Richards had used social media to recommend a crowd-funding campaign run by a US charity which works in Afghanistan.
The crowd-funding campaign seeks $35,000 for "new tarpaulins, blankets, warm clothes and socks, and sleeping bags" for children at the Chahari Qambar​ refugee camp on the outskirts of Kabul.
More than 100 children froze to death at the camp four years ago.
Mr Richards was arrested at his home on 28 July and has been held at Al Murraqabat Police Station.
He has been able to see his wife once a week and make limited phone calls.