Dubai crash survivor defies odds with $1m lottery win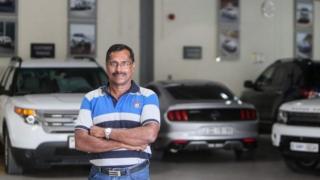 A survivor of the Dubai plane crash earlier this month has been hailed the world's luckiest man after winning $1m (£770,000) in a lottery six days later.
Mohamed Basheer Abdul Khadar was one of 300 passengers and crew who narrowly escaped after an Emirates plane crash-landed and exploded on 3 August.
He won the Dubai Duty Free Millennium Millionaire lottery.
Mr Khadar, 61, an Indian from the state of Kerala, was returning to Dubai after the Muslim Eid holiday.
He was due to retire after 36 years working for a car dealer in the United Arab Emirates last December - but his employers persuaded him to stay on for an extra year, The Khaleej Times reported.
Mr Khadar was on Flight EK521, direct from Thiruvananthapuram to Dubai, a route which is popular with hundreds of thousands of Kerala residents who work in the Gulf countries.
He told Gulf News that he made it a habit always to buy a lottery ticket before returning to India - the winning ticket was the 17th he had purchased.
"I have been working in Dubai for 37 years," he told the newspaper, "and I have always felt like this is my country.
"I feel like God gave me a second life when I survived the plane crash, and blessed me with this money to follow all this up by doing good things."
He said that his escape from the stricken Emirates plane - which blew up soon after its passengers and crew disembarked - was a miracle.
"I value the escape as a more precious gift from God and I knew God saved me for some specific purpose. Probably this is it."
Mr Khadar added that he hopes to return to India after his retirement to find a job that involves helping children in need in Kerala.
He said that he would not be donating his winnings to charity.
"I will work for others' wellness and will do something to help the needy. But not by donating money. I know that money will make enemies," he told the Khaleej Times.