The Syrian refugees struggling to survive in no-man's land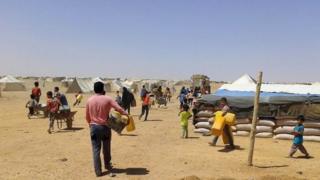 Shortly before dusk, the sky blushes to an ominous, brick red hue. Soon, a dust storm obscures even the small children huddling at the entrance to a neighbour's tent.
"God, please, you can't even see the people," mutters a Syrian woman as she pokes her head out of her shelter in the makeshift Ruqban camp in a remote area of no-man's land near the Jordanian border.
Later that night when I speak to another refugee, Ali, who has been in the camp for nearly two months, the wind has picked up and his tent awning is flapping like a startled bird.
"The desert weather means we get sandstorms all the time and sometimes it leads to unbelievable destruction and damage to the tents," Ali says.
"It's dusty and now the temperature is very high, even at night. People get thirsty. But the situation is very difficult. We lack water and food and there's no medical care."
The United Nations says more than 85,000 people are stranded in Ruqban, near the point where Jordan, Syria and Iraq meet, and Hadalat camp, 50 miles (80km) to the west.
Deteriorating conditions
Journalists are unable to access what is known as the berm area (because of nearby sand banks, or berms) and for a month, aid workers have been unable to reach it.
Jordan declared its north and eastern borders a closed military zone after a suicide bombing on an army post near Ruqban on 21 June, which killed seven soldiers.
The so-called Islamic State (IS) group said it carried out the attack.
At the time, Jordanian officials described this as "clear proof" that IS elements were hiding among the people massing on their country's borders.
"Jordanians are angry today because of what happened and this attempt to undermine our security and stability," the information minister, Mohammad al-Momani, told the BBC.
"We stand strong in our war against terrorism and we expect the world to understand our sovereign decisions and support Jordan."
Supplies of water to the refugees have been severely limited in recent weeks and there has been no distribution of food rations and medicine.
Camp residents, who include many children and elderly people, complain about outbreaks of disease because of the insanitary conditions; there are no bathrooms or sewage facilities. They say some people have died.
As their situation becomes more and more desperate, aid agencies are negotiating with the Jordanian authorities to be allowed to carry out emergency relief operations.
'International failure'
International law dictates that those fleeing war should also be given asylum and protection.
Yet humanitarian organisations find themselves unable to press for Jordan to reopen its borders.
They cannot dispute Jordan's security fears and have been placed in an awkward spot as many Western nations have refused to take in those fleeing conflicts.
Already, Jordan hosts over 650,000 registered Syrian refugees.
This week, the International Committee of the Red Cross (ICRC) issued an appeal for the international community to come to the aid of those trapped in the desert.
"This is not just about Jordan. The crisis at the berm reflects an international failure to protect and help people affected by conflict and who are in desperate need," said Robert Mardini, the ICRC's Regional Director.
The medical charity, Medecins Sans Frontieres (MSF), urged Jordan to allow it to evacuate Syrians who have been badly wounded in the fighting.
The UN's World Food Programme (WFP) says it hopes to arrange a delivery for one-month supply of food in the coming days.
"We recently received a green light from the government of Jordan for a one-off distribution. However we don't have a specific date yet," says WFP spokesperson Shada Moghraby.
"We are hoping it will be an opportunity to buy some time to look at more long-term and sustainable solutions."
Supplies plea
A Syrian opposition group representing tribal forces has recently formed a council for people from Palmyra and the Badia region to oversee the affairs of refugees in the camp.
Many residents come from the area, which was controlled by IS militants and then recaptured by Syrian forces, backed by Russia, in March.
The council says a doctor, nurses, engineers and teachers are among those now stranded in Ruqban.
"We're not asking for these people to settle in Europe or go into Jordan," says Omar al-Beniai, a spokesman based in Turkey. "We just ask the world to give us basic supplies. We could even set up our own emergency clinic."
Back in his tent, Ali is clearing away a layer of dust from his few possessions.
"We just need sustenance until we can go back to our villages," he tells me. "Without it, the future looks gloomy."